Diane Henderiks' Shamrock French Toast
A St.Patty's Day Breakfast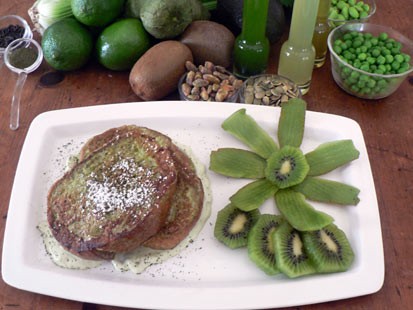 From the kitchen of Diane Henderiks
|
Diane Henderiks is on a mission to teach America how to eat well. She is a personal chef, registered dietitian, cookbook author and regular "Good Morning America" contributor. She manages two companies: Diane's Daily Dish, her personal chef service; and Diane M. Henderiks, R.D. & Associates LLC, her nutrition consulting firm. She travels the country sharing her expertise and engaging audiences at the nation's top food and wine festivals and women's events. Diane is renowned for her expertise in creating wholesome cuisine that is both delicious and nutritious. www.dishwithdiane.com
Ingredients
For French Toast
2 whole egg plus 4 egg whites
1/4 teaspoon vanilla extract
1/4 teaspoon cinnamon
2 teaspoons spinach juice
4 slices whole wheat bread
For Sauce
1/4 cup low fat cream cheese
1/4 avocado
2 tablespoons kiwi or honeydew juice
For Garnish
Sprinkle of confectioners sugar
1/8 teaspoon dried mint
Cooking Directions
Whisk first 4 ingredients for French toast together (eggs through spinach juice) Lay bread slices in egg mixture, turn to coat bread completely. Set aside for bread to soak up the liquid and turn over here and there.
Puree all ingredients for sauce in food processor until smooth. Heat one teaspoon of oil in cast iron pan over medium heat. Place French toast in pan and cook for 2 minutes or until brown, turn and brown the other side. Place 2 tablespoons of sauce on bottom of plate, top with 2 slices of French toast, dust with Confectioner's sugar and sprinkle with dried mint.
Serving size: 2 slices French toast and 2 tablespoons sauce
Recipe courtesy Diane Henderiks.
Other Recipes That You Might Like