Diane Henderiks' Simple Spinach & Feta Frittata
Start the Morning Off Right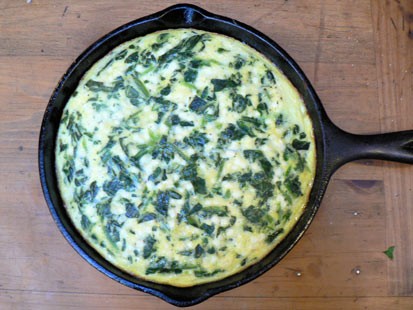 From the kitchen of Diane Henderiks
|
Diane Henderiks is on a mission to teach America how to eat well. She is a personal chef, registered dietitian, cookbook author and regular "Good Morning America" contributor. She manages two companies: Diane's Daily Dish, her personal chef service; and Diane M. Henderiks, R.D. & Associates LLC, her nutrition consulting firm. She travels the country sharing her expertise and engaging audiences at the nation's top food and wine festivals and women's events. Diane is renowned for her expertise in creating wholesome cuisine that is both delicious and nutritious. www.dishwithdiane.com
Ingredients
1 teaspoon olive oil
1/4 cup red onion, sliced thinly
3 eggs plus 3 egg whites
1/2 cup low-fat cottage cheese
1 cup baby spinach leaves, washed, squeezed dry and coarsely chopped
nice pinch of freshly ground black pepper
1/4 crumbled feta cheese
Cooking Directions
Place oven grate about 8 inches from broiler. Preheat oven to 375 degrees. Heat olive oil in medium cast iron pan over medium heat. Add onion and saute 2-3 minutes until soft.
In large bowl, whisk whole eggs and whites well. Add cottage cheese, whisk, add spinach and pepper, whisk.
Stir in feta cheese, whisk. Pour egg mixture into pan with onions, reduce heat to low and cook about 10 minutes until the eggs are just set.
Remove from oven and serve in center of table right from cast iron pan.
Recipe courtesy Diane Henderiks.
Other Recipes That You Might Like