Diane Henderiks' Swedish Turkey Meatballs
Recipe Courtesy Diane Henderiks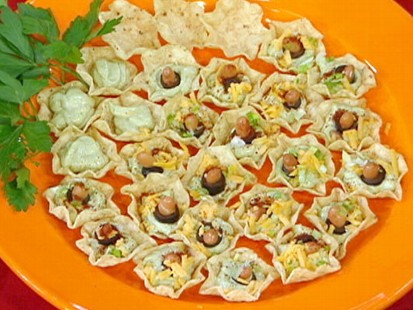 Portion controlled starter recipes for your holiday parties.
From the kitchen of Diane Henderiks
|
Ingredients
For the Meatballs:
1 cup whole wheat bread crumbs
2 egg whites
1/4 teaspoon grated nutmeg
1/2 ground allspice
1 teaspoon salt
2 lbs. ground turkey
For the Sauce:
2 tablespoons olive oil
3 tablespoons cornstarch
1/4 cup sherry
3 cups beef broth
1 tablespoon Worcestershire sauce
1 tablespoon low-fat sour cream
Cooking Directions
Preheat oven to 350 degrees F.
Make the meatballs. Combine bread crumbs, egg whites, nutmeg, allspice, salt, and turkey in a large bowl. Mix with your hands. With wet hands, form turkey mixture into 1-inch balls. Chill turkey balls in refrigerator until ready to use.
Pour olive oil in a large nonstick skillet and heat over a medium-high heat until hot. Place turkey balls into the skillet and brown until browned on all sides. Place turkey balls into a 9 x 13 inch baking dish and cover with foil. Bake for 20 minutes.
Make the sauce. In a small bowl combine cornstarch and water, stirring until smooth. Set aside. Combine Worcestershire and beef broth in a large saucepan and bring to a boil over medium-high heat. Whisk in the cornstarch mixture and continue whisking until the mixture begins to thicken. Remove mixture from heat and gently whisk in sour cream. Pour this mixture over the turkey balls and stir well. Serve warm.
Other Recipes That You Might Like