Diane Henderiks' Tuna Tartare with Ginger-Mango Gastrique
Upgraded Classic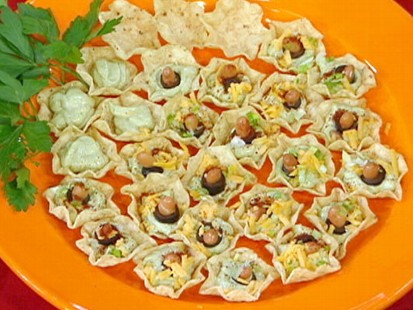 Portion controlled starter recipes for your holiday parties.
From the kitchen of Diane Henderiks
Try Diane Henderiks' recipe for Tuna Tartare with Ginger-Mango Gastrique.
Ingredients
For the Tuna:
1 pound fresh sushi grade tuna, cut into 1/4-inch cubes
1/4 cup toasted sesame seeds
For the Ginger-Mango Gastrique:
1 cup coarsely chopped mango
1 tablespoon freshly grated ginger
2 teaspoons honey
2 tablespoons orange juice
1 tablespoon rice wine vinegar
For the Dressing:
1 green onion, finely chopped (pale green and white parts only)
2 teaspoons grated fresh ginger
1 garlic clove, minced
2 tablespoons low sodium soy sauce
2 tablespoons sesame oil
1 teaspoon crushed red pepper flakes
Cooking Directions
Make the gastrique: Combine all ingredients in a small saucepan and bring to a boil. Reduce heat to low and simmer for 15 minutes. Pour mixture in blender and puree. Let cool.
Make the dressing: Combine all ingredients for dressing, set aside.
Prepare the tuna: Cut tuna into 1/4-inch dice. Add dressing and gently toss well to combine. Refrigerate for at least 1 hour.
Pour gastrique into squeeze bottle or place in zip top bag and cut small piece out of bottom corner so you can drizzle onto tuna.
To serve: When ready to serve place 2 teaspoons of tuna on chilled Chinese spoon (or other easy vessel to pick up) and sprinkle with toasted sesame seeds.
Drizzle with ginger-mango mixture.
Recipe Summary
Main Ingredients: tuna, sesame seeds, mango, ginger, honey, garlic
Course: Appetizer/Starter, Party Platter, Side Dish