Dolmadakia
Grape Leaves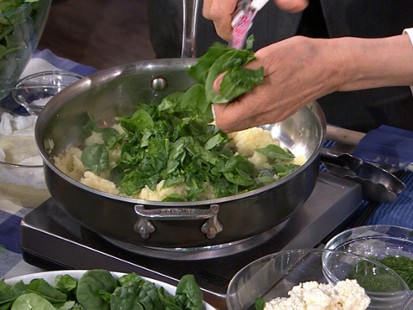 Chef and owner of NYC's Loi prepares spanakopita and stuffed grape leaves.
From the kitchen of Maria Loi
Try Maria Loi's grape leaves recipe.
Ingredients
Filling:
2 cups rice, soaked in lukewarm water
1 bunch of dill, finely chopped
1 large onion, minced
1 bunch of scallions, minced
1 leek, white section, finely chopped
1 small bunch of mint, finely chopped
5 tablespoon Greek olive oil
2 tablespoon lemon juice
½ teaspoon lemon zest
salt and pepper to taste
Pan set up for cooking:
1 onion, chopped
1-2 lemons, sliced into rounds
½-1 cup lemon juice
1-2 cup Greek olive oil
½-1 cup vegetable stock/broth or water
grape leaves, as needed
Cooking Directions
In a bowl combine rice, dill, onions, scallions, leeks, mint, olive oil, lemon juice, lemon zest, salt and pepper, and mix.
On the table we have pre-cut grape leaves.
Take a small spoonful of filling, place on grape leaves, fold in left, right, then bottom of leaf, and roll up. Place in already set up pan.
Pour lemon juice, olive oil, and vegetable stock on top of rolled grape leaves, cover with parchment paper and foil, and it's ready to bake. Serve hot or cold, with Greek yogurt for dipping.
Recipe courtesy Maria Lio.
This recipe was styled by chef Karen Pickus for Good Morning America.
Recipe Summary
Main Ingredients: dill, lemon juice, onion
Course: Side Dish