Magnum's Double Caramel Cool Down
Fusing Food and Fashion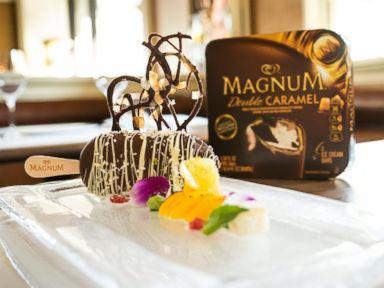 From the kitchen of Magnum
|
Magnum teamed up celebrated chef Andrew Carmellini and designer Christian Siriano to create what they're billing as "America's Most Fashionable Dessert." Carmellini pulled inspiration from Siriano's latest clothing line, which took tropical cues from a trip to Isla de Mujeres off Mexico. See the result below.
Ingredients
2 MAGNUM Double Caramel Ice Cream Bars
1/2 can (13.5 oz) coconut milk
1 teaspoon sugar
Grated peel and juice from 1 lime
1 ounce white chocolate
2 tablespoons toasted flaked coconut (unsweetened)
1/2 ripe mango
1/4 ripe pineapple
1/4 cup raspberries
Fresh basil leaves
Cooking Directions
Make the coconut sauce: Carefully open can of coconut milk and spoon about half of the thick coconut cream from the top into a bowl and set aside. Pour half of the remaining thin coconut milk into a small saucepan. Add sugar and bring to a boil over medium-high heat. Boil until reduced by half, about 5 minutes. Combine the reduced coconut milk, coconut cream, lime juice and peel from ½ lime. Refrigerate until cold, about 1 hour. (This sauce can be made ahead and kept in the refrigerator up to 2 days.)
Decorate the MAGNUM Bars: Unwrap MAGNUM Double Caramel Ice Cream Bars and place on large parchment or waxed paper lined plate. Melt white chocolate in small microwave-safe bowl in microwave. Drizzle melted chocolate over ice cream bars, then sprinkle with coconut. Freeze until set, about 10 minutes.
Assemble the dessert: Peel the mango and cut the flesh from the pit. Cut into 1/4-inch thick slices. Peel the pineapple and cut into similar slices as the mango.
To serve, spoon about 1/4 cup of the coconut sauce onto the middle of each of 2 serving plates. Place a decorated ice cream in center of each plate. Arrange sliced mango, pineapple and raspberries around ice cream bars. Grate lime peel from ½ lime over the top of each plate and garnish each plate with a few basil leaves. Serve immediately.
Recipe courtesy MAGNUM.
Other Recipes That You Might Like