Michael Symon's Double-Cut Pork Chops With Corn and Jalapeno Salad
Grill Up a Delicious Dinner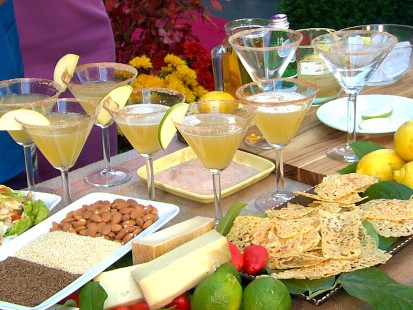 Carla Hall, Michael Symon, Daphne Oz, Mario Batali and Clinton Kelly share recipes on "GMA."
From the kitchen of Michael Symon
What's for dinner? Michael Symon and the co-hosts of ABC's "The Chew" have you covered with this delicious recipe for double cut pork chops with corn and jalapeno salad from their new cookbook, "The Chew: What's for Dinner?"
Ingredients
1 Tablespoon sugar
1 Tablespoon salt
1 Tablespoon coriander, toasted and ground
4 Double-Cut pork chops
2 Tablespoons Olive Oil, plus more to drizzle
4 ears corn, shucked, with silk removed
Zest and juice of two limes
1/4 cup cilantro (leaves only, chopped)
1 pint Sweet 100 tomatoes, halved
3 scallions, chopped
1 clove garlic, minced
1 jalapeno, minced
Freshly ground black pepper
Cooking Directions
Make the pork chops: Combine the sugar, salt and coriander. Rub each of the pork chops on both sides with the mixture, and refrigerate for 2 hours and up to overnight.
Preheat half the grill to high, and preheat the other half to low heat.
Drizzle the chops with olive oil and grill for 3-4 minutes per side over high heat to sear. Once seared, transfer to the cooler part of the grill to finish cooking through, about 10 minutes, or until medium to medium well.
Make the corn and jalapeno salad: Grill the ears of corn till charred at parts, about 3 minutes per side.
Remove the kernels from the ears to a bowl, and toss with the lime zest and juice, cilantro, tomatoes, scallions, garlic and jalapeno. Add the 2 tablespoons of olive oil and toss to coat. Season with salt and pepper.
Serve the pork chops sliced and topped with salad.
Reprinted with permission from "The Chew: What's for Dinner?: 100 Easy Recipes for Every Night of the Week."
This recipe was styled by chef Karen Pickus for Good Morning America.
Recipe Summary
Main Ingredients: pork chops, olive oil, corn, tomatoes, scallions, jalapeno, garlic
Course: Dinner