Dr. Howard Shapiro's Beat Diabetes Peanut Butter Cookies
Enjoy These Cookies Guilt Free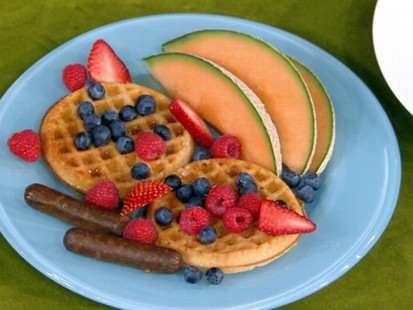 You may think you're eating healthy, but these foods can set a diet off-course.
From the kitchen of Dr. Howard Shapiro
|
These cookies are as nutritious as they are delicious. Give one a try.
Ingredients
2 scoops unsweetened soy protein powder (about 2/3 cup)
1/2 cup granulated splenda
6 tablespoons creamy peanut butter
1/4-1/3 cup chopped nuts
6 tablespoons water
1 teaspoon vanilla extract
1/4 teaspoon salt
Cooking Directions
Preheat oven to 375F. Lightly oil a baking sheet or coat with nonstick spray.
In a large bowl mix all ingredients together until a dough is formed. If mixture is too dry, add an additional tablespoon of water.
Roll tablespoon of dough into 1 inch balls and place on the prepared baking sheet. Flatten balls into approximately 2 inch rounds.
Bake for 8 minutes or until bottoms are lightly browned. Cool before removing from pan.
Almond variation:
Follow above recipe substituting almond butter and chopped almonds for peanut butter and chopped peanuts, and almond extract for vanilla.
Click here to learn more about Dr. Shapiro about healthy eating
This recipe was styled by chef Karen Pickus for Good Morning America.
Other Recipes That You Might Like