Joe Montana's Dry Rub Chicken Wings
Game Day Grub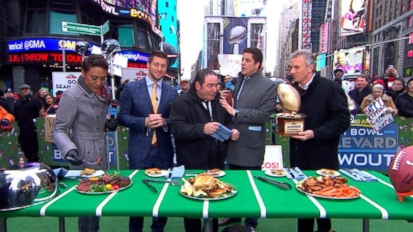 Celebrity chef Emeril Lagasse judges the culinary competition between the two NFL stars.
From the kitchen of Joe Montana
|
Football players may be on the clock most fall Sundays, but come Super Bowl, most are watching along with the rest of us. And these men know how to eat. Hall of fame quarterback Joe Montana shared his ultimate game day grub on "Good Morning America," and you'll want in on this one. Celebrate like the sport's insiders with his recipe for dry rub chicken wings.
Ingredients
2 pounds of Chicken Wings - tips removed
1/2 teaspoon Lawry's Seasoning
1 teaspoon paprika
1/2 teaspoon onion powder
1/2 teaspoon garlic powder
1/2 teaspoon salt
1/2 teaspoon black pepper
2 teaspoons olive oil
Cooking Directions
Remove tips from chicken wings and dry wings to remove any extra liquid and set to rest.
Combine all dry ingredients in a bowl and mix.
Place chicken wings in a large bowl. Drizzle with olive oil and rub evenly into chicken wings.
Sprinkle half of the dry rub on top of the chicken wings and rub it in evenly. Flip wings and sprinkle the remaining rub onto the wings. Rub evenly.
Place a baker's rack over the top of a cookie sheet and line the rack with the wings.
Bake at 350 degrees for 20 minutes and then flip and bake for another 10 minutes. Then turn the broiler on for an additional 10 minutes to help make crispy.
Remove from oven and enjoy.
Recipe courtesy of Joe Montana.
This recipe was styled by chef Karen Pickus for Good Morning America.
Other Recipes That You Might Like