Duck Dynasty Duck and Dressing
Reality Family Recipe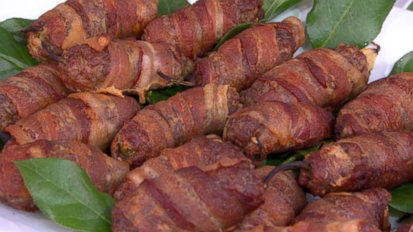 The cast of the hit show share treats from the new cookbook "Miss Kay's Duck Commander Kitchen."
From the kitchen of Duck Dynasty
|
America's favorite reality TV family, the Robertson's of Duck Dynasty, stopped by "Good Morning America" to share their go-to recipes from Miss Kay's cookbook, "Miss Kay's Duck Commander Kitchen" to make in their home. Try her recipe for Duck and Dressing here.
Ingredients
Duck
8 teal or 3 mallards or 1 large chicken
3 bay leaves
4 garlic cloves
Salt and black pepper
Dressing
1 stick (¼ pound) butter
2 medium onions, diced
2 bell peppers, diced
3 celery stalks, diced
2 pans Cornbread (page 224, or use any recipe you like to get 16 cups), crumbled
1 sleeve saltine crackers, crushed
1 sleeve Ritz crackers, crushed
10 slices white bread, toasted in the oven and crumbled
1 can (12 ounces) evaporated milk (we use Pet)
4 large eggs, beaten
1 heaping teaspoon rubbing sage
Cooking Directions
Make the duck: In the large pot, combine the ducks, bay leaves, garlic, and salt and pepper to taste. Add water to cover by 2 inches and bring to a boil over high heat. Lower to a simmer, cover, and cook for 1 hour and 45 minutes or until the ducks are tender. Set aside the ducks, covered with foil. Save the broth.
Heat the oven to 325ºF. Make the dressing: In the large skillet, melt the butter over medium heat. Add the onions, bell peppers, and celery and cook, stirring occasionally, until the vegetables are tender, about 7 minutes.
In the roasting pan, using your hands, combine the cornbread, saltines, Ritz crackers, and white bread. Add the vegetables and mix well. Add duck broth slowly until the dressing is pourable but still thick. Add the evaporated milk, eggs, and sage; mix well with a large kitchen spoon.
Place the ducks on the dressing, breast side up. Push the ducks down into the dressing, but leave the breast showing. Bake uncovered for 45 minutes.
Recipes courtesy "Miss Kay's Duck Commander Kitchen"
Recipes styled by Karen Picks for "Good Morning America."
Other Recipes That You Might Like