Gail Simmons Shares 'Food & Wine''s Dulce de Leche Crispies
Make These Cookies Your Holiday Tradition!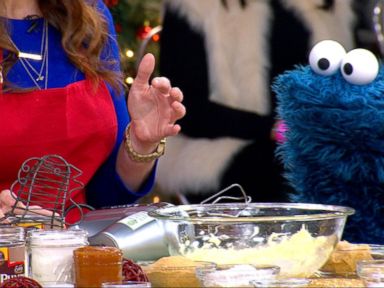 Gail Simmons, the special projects director of Food + Wine, joins to judge the finale of the "GMA" cookie search, plus the Cookie Monster makes a special appearance.
From the kitchen of Gail Simmons
Gail Simmons, special projects director for "Food & Wine" magazine, shared this delicious Dulce de Leche crispies recipe from Food & Wine with "Good Morning America." Simmons, also a judge on the hit cooking competition "Top Chef," joined "GMA" to judge the Great American Cookie Search, which saw viewers from across the country submit their favorite holiday cookie recipes.
Ingredients
3/4 cup crispy rice cereal
1 1/2 teaspoons vegetable oil, plus more for coating
3 1/2 ounces blanched sliced almonds (1 1/4 cups)
5 tablespoons dulce de leche at room temperature, plus more for topping
Salt
Cooking Directions
Preheat the oven to 350°. In a small bowl, toss the rice with 1 teaspoon of the vegetable oil. Spread the oiled rice in an even layer on a large nonstick rimmed baking sheet. Bake until the rice is very crisp, about 10 minutes. Transfer to a plate and let cool to room temperature.
In a large bowl, mix the sliced almonds with the toasted rice. Using a rubber spatula, blend in the 5 tablespoons of dulce de leche and the remaining 1/2 teaspoon of oil, stirring well to coat the rice and almonds thoroughly.
Lightly oil 2 large nonstick rimmed baking sheets. Scoop rounded tablespoons of the rice-almond mixture onto the pan and gently flatten them into 2 1/2-inch-wide disks. Lightly sprinkle the crispies with salt. Bake them until they are lightly browned, about 15 minutes.
Let the dulce de leche crispies cool on the baking sheets for 1 minute. Using a spatula, carefully transfer them to a platter to cool completely. Dollop each one with 1/4 teaspoon of the remaining dulce de leche and serve.
The crispies can be stored in an airtight container overnight.
Recipe reprinted with permission from Gail Simmons/Food & Wine magazine.
Recipe styled by Karen Pickus, chef/food stylist, "Good Morning America."
Recipe Summary
Main Ingredients: crispy rice cereal, vegetable oil, almonds, dulce de leche
Course: Cookies