Dwight Freeney's Lime Mojo Chicken Wings
The Best Wing Recipe Ever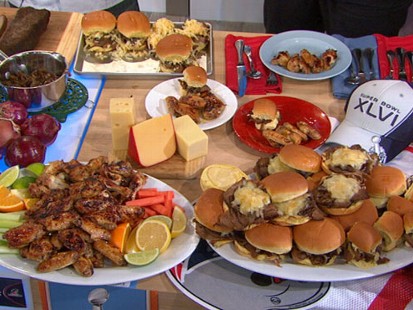 Chef Josh Capon and Dwight Freeney make the perfect Super Bowl snacks.
From the kitchen of Dwight Freeney
These wings will be the hit of your football party.
Ingredients
4 1/2 pound package of chicken wings
1 cup of olive oil
1 package of Good Seasons dry Italian dressing mix
1-1/2 cups of orange juice
1/4 cup of Kikkoman Ponzu Lime sauce
1/4 cup of honey
3 cloves of garlic, smashed
Juice of one lemon
Juice of one lime
Red pepper flakes
Salt and pepper, to taste
Cajun seasoning, to taste, optional
Cooking Directions
Cut the tips off of wings and separate, if desired. Place wings in a zipper bag. Whisk together all of remaining ingredients (except the salt, pepper and Cajun seasoning) and once combined, pull out one cup of the marinade to set aside. Pour the remaining marinade over the wings. Seal the bag, and mush it all together; refrigerate for one hour, turning occasionally.
Preheat oven to 375 degrees. Remove wings from marinade and place in a single layer on an aluminum foil covered baking sheet. Sprinkle the wings with salt, pepper and Cajun seasoning. Bake on the lower rack of the oven at 375 degrees for about 20 minutes.
Meanwhile, bring the reserved marinade to a boil on the stovetop; reduce to a medium simmer and allow to reduce until thickened. Remove wings, turn the oven up to 425 degrees, and brush the wings with the reserved, cooked marinade. Turn and brush the other side and return to oven to the middle rack. Bake at 425 degrees for another 30 to 40 minutes, or until done, turning and brushing with the marinade several times.
Serve with the marinade reduction as a dipping sauce.
Recipe courtesy Dwight Freeney.
This recipe was styled by chef Karen Pickus for Good Morning America.
For more information on Dwight's charity, go to http://www.gridirongirls4africa.com/.
Recipe Summary
Main Ingredients: chicken wings, lime, lemon, red pepper flakes, olive oil
Course: Party Platter
More Info: Kid Friendly