Easter Recipe: Taste of Home's Moist Lemon Tea Cakes
Moist, Flavorful, Delicious!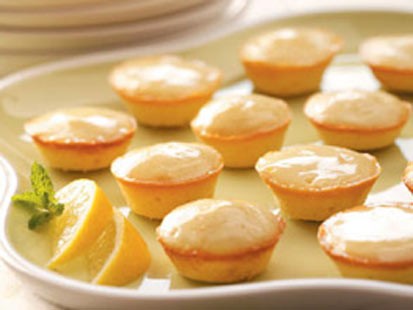 From the kitchen of Taste of Home magazine
|
Easter is a time for family and friends. This Taste of Home recipe produces a moist, flavorful cake that's guaranteed to please.
Ingredients
1-1/2 cups butter, softened
1 package (8 ounces) cream cheese, softened
2-1/4 cups sugar
6 eggs
3 tablespoons lemon juice
2 teaspoons lemon extract
1 teaspoon vanilla extract
1-1/2 teaspoons grated lemon peel
3 cups all-purpose flour
For the Glaze:
5-1/4 cups confectioners' sugar
1/2 cup plus 3 tablespoons 2 percent milk
3-1/2 teaspoons lemon extract
Cooking Directions
In a large bowl, cream the butter, cream cheese and sugar until light and fluffy. Add eggs, one at a time, beating well after each addition. Beat in the lemon juice, extracts and lemon peel. Add flour; beat just until moistened.
Fill greased miniature muffin cups two-thirds full. Bake at 325° for 10 to 15 minutes or until a toothpick inserted near the center comes out clean. Cool for five minutes before removing from pans to wire racks to cool completely.
In a small bowl, combine glaze ingredients. Dip tops of cakes into glaze; place on waxed paper to dry.
Recipe courtesy Taste of Home magazine.
Other Recipes That You Might Like