Emeril Lagasse's Easy Steak Stir-Fry
Fast and Flavorful Asian Dinner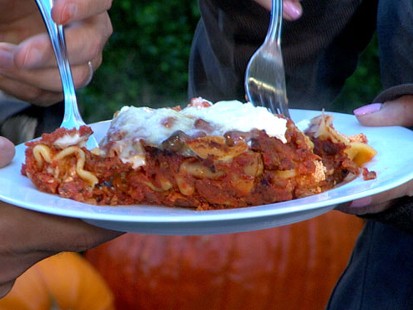 The world-famous chef has just published his 18th cookbook, "Emeril's Cooking With Power."
From the kitchen of Emeril Lagasse
|
Emeril Lagasse is known for bringing his signature "Bam!" to your dinner table and now, the celebrity chef is upgrading slow-cooker fare. In his new book, "Cooking with Power," Lagasse shares 100 delicious dishes to make in a slow cooker or pressure cooker. Try his easy steak stir-fry at your next family dinner.
Ingredients
2 tablespoons vegetable oil
1 pound skirt steak, cut against the grain into thin strips
8 ounces French green beans (haricots verts), trimmed and cut into 2-inch pieces
1 red bell pepper, stemmed, seeded, and julienned
2 tablespoons minced garlic (4 to 5 large cloves)
2 tablespoons minced fresh ginger
2 tablespoons Asian fish sauce
2 teaspoons soy sauce
1 teaspoon light brown sugar
1 teaspoon dark Asian sesame oil
1 teaspoon chili garlic sauce
2 cups hot steamed rice, for serving
Cooking Directions
Set the multi-cooker to the "white rice" program, and when it is hot, add the vegetable oil. Working in batches, brown the steak on all sides, 2 to 3 minutes per batch. Transfer the steak to a platter, using a
slotted spoon.
Add the green beans, bell pepper, garlic, and ginger to the multi-cooker, close the lid, and cook for 10 minutes.
Meanwhile, in a small bowl, combine the fish sauce, soy sauce, brown sugar, sesame oil, and chili garlic sauce and whisk well.
Return the steak to the multi-cooker, add the sauce, and cook for 5 minutes with the lid open, stirring occasionally.
Serve immediately with the cooked rice.
This recipe was styled by chef Karen Pickus for Good Morning America.
Recipe courtesy Emeril Lagasse, from Emeril's Cooking with Power: 100 Delicious Recipes Starring Your Slow Cooker, Pressure Cooker, and Deep Fryer, HarperCollins Publisher, 2013, copyright MSLO, Inc., all rights reserved
Other Recipes That You Might Like