Zero Belly Cookbook's Eggs Benedict
Try this yummy recipe to keep you on your weight-loss resolution track.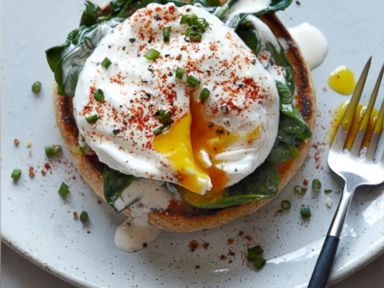 From the kitchen of Dave Zinczenko
|
Ingredients
2 gluten-free English muffins, split in half *
4 eggs
Olive oil spray
2 cups spinach leaves
2 tbsp Zero Belly Mayonnaise, or store-bought
Smoked paprika to taste (optional)
Cooking Directions
Toast the English muffin halves until golden brown.
Poach 4 eggs (see page 73 for instructions).
While the eggs are poaching, heat a medium sauté pan over medium heat; spray with olive oil spray, and add the spinach. Use a rubber spatula to stir the spinach until wilted. Transfer to a plate lined with paper towels to drain any excess water.
Top each toasted English muffin half with one-quarter of the spinach mixture, and one poached egg.
Top with a ½ tablespoon of mayonnaise and a pinch of smoked paprika, if desired.
* For a lower-calorie option, substitute English muffins with four portobello mushroom caps. To prepare the mushrooms, preheat the oven to 300°F. Wipe the portobello caps clean of dirt with a damp paper towel, and remove the stems with a paring knife. Place the mushrooms on a rimmed baking sheet, spray the mushrooms lightly with olive oil spray, and bake for 6 to 8 minutes or until soft.
PER SERVING (with English muffin): 207 calories / 11 g fat / 9 g carb / 3 g fiber / 9 g protein
PER SERVING (with portobello mushroom): 148 calories / 10 g fat / 6 g carb / 2 g fiber / 9 g protein
Other Recipes That You Might Like