Richard Blais' Elevated Party Snacks
Fast And Flavorful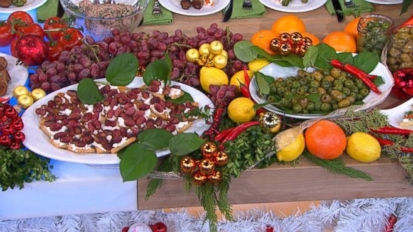 The TV chef shares some delicious recipes for your holiday dinner.
From the kitchen of Richard Blais
Still have no idea what you're making for the holidays? Don't worry—Richard Blais stopped by 'Good Morning America' to share easy and flavorful last-minute holiday apps and sides, like these Elevated Party Snacks.
Ingredients
See below.
Cooking Directions
Olives with Citrus:
Simply grate orange zest over some juicy green olives and serve as a snack.
Dressed Up Potato Chips:
Simply dollop some sour cream and caviar on lightly salted potato chips, and top with chopped chives.
Queso Blanco w/ White Chocolate:
Melt ½ cup of queso and fold in ¼ cup of grated white chocolate. Serve with tortilla chips.
Recipes courtesy of Richard Blais.
Recipe Summary
Main Ingredients: olives, lemons, potato chips, sour cream, cheese, white chocolate
Course: Appetizer/Starter