Elisabeth Hasselbeck's Pulled Pork
Simple and Healthy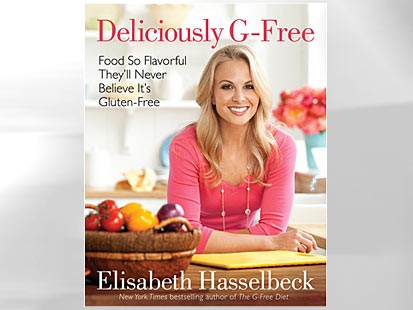 From the kitchen of Elisabeth Hasselbeck
|
The first time I served this to a large crowd, it turned out to be the life of the party! Now it's my go-to recipe for most casual gatherings. For anyone on a paleo- or low-carb diet, you can serve the pork in lettuce leaves (butter lettuce is best) instead of buns.
Ingredients
Nonstick cooking spray
1 5-pound pork loin end roast, well trimmed of fat.
½ teaspoon sea salt
2 teaspoons olive oil
2 large Vidalia onions, cut into 1-inch-thick slices
4 garlic cloves, crushed
1 cup dry white wine
1 18-ounce jar gluten-free barbecue sauce
¼ cup gluten-free light brown sugar
1 canned gluten-free chipotle chili en adobo, plus one tablespoon adobo sauce
10 gluten-free hamburger buns; or 10 gluten-free tortillas, warmed
Cooking Directions
Grease a large skillet with a generous layer of cooking spray, and heat it over high heat.
Sprinkle both sides of the pork roast with the sea salt, place it in the skillet, and cook, turning it occasionally, until it is browned on all sides, 8 to 10 minutes. Transfer the roast to a slow-cooker on the high setting, or to a stockpot set over low heat.
Place the oil and onions in the same skillet. Reduce the heat to medium-low and cook, stirring occasionally, until the onions begin to soften, 8 to 10 minutes. Add a tablespoon of water if they begin to stick. Add the garlic and cook for 2 minutes, or until it becomes fragrant.
Transfer the onions and garlic to the slow-cooker or stockpot.
Pour the wine into the skillet and scrape up any brown bits from the bottom of the pan. Add the wine mixture to the cooker or stockpot, and then add the barbecue sauce, brown sugar, and chipotle chile with the adobo sauce. Cover, and cook in the slowcooker for 6 to 8 hours on high, or simmer in the stockpot over low heat for 3 ½ to 4 hours, until the meat is tender and beginning to break apart.
Break up the meat with a fork and stir it back into the sauce. Serve on the hamburger buns or tortillas.
Recipe courtesy DELICIOUSLY G-FREE by Elisabeth Hasselbeck.
Other Recipes That You Might Like