Elisabeth Hasselbeck's Banana Bread
Tastes Just Like the Original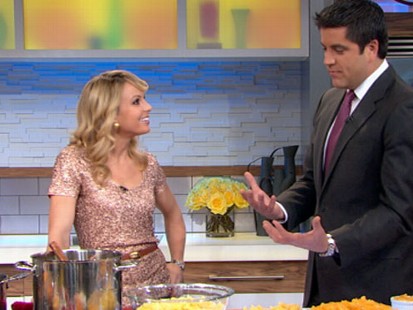 From the kitchen of Elisabeth Hasselbeck
My mom's banana bread always made the house smell so good! No one will suspect that this one is g-free; I love it as much as ever. Keep in mind that the ripest bananas make the moistest bread.
Ingredients
Nonstick cooking spray
5 tablespoons unsalted butter, at room temperature
1 cup granulated sugar
2 eggs
1 ½ cups mashed banana (about 4 small very ripe bananas)
1 cup brown rice flour
¾ cup millet flour
1 teaspoon baking soda
½ teaspoon salt
½ teaspoon xanthan gum
¼ teaspoon baking powder
½ cup chopped walnuts (optional)
Cooking Directions
Preheat the oven to 350°F. Line a 2-pound loaf pan with aluminum foil and then coat the foil with cooking spray.
Place the butter and sugar in a large bowl. With an electric mixer on high speed, beat until the mixture is light yellow and fluffy. Add the eggs, one at a time, mixing on medium speed until combined.
Add the mashed banana and 1/3 cup of water, and mix on low speed for 1 minute. Sprinkle the brown rice flour, millet flour, baking soda, salt, xanthan gum, and baking powder over the bananas. If you are adding nuts, add them to the bowl and then using a spoon, stir the mixture until just combined.
Spoon the batter into the prepared loaf pan, and bake until the center of the bread springs back to the touch, 50 to 55 minutes.
(If the bread starts to brown too quickly on the top, cover it loosely with a piece of aluminum foil.)
Transfer the loaf pan to a wire rack and let it cool for 5 minutes. Then lift the bread out of the pan and and let it cool completely on the wire rack before slicing. Wrapped tightly in aluminum foil, the bread will keep for up to 5 days in the refrigerator.
Recipe courtesy The G Free Diet by Elizabeth Hasselbeck.
This recipe was styled by chef Karen Pickus for Good Morning America.
Recipe Summary
Main Ingredients: butter, baking powder, walnuts, banana
Course: Breakfast, Brunch
More Info: Kid Friendly, Wheat/Gluten Free