Elisabeth Hasselbeck's Buffalo Chicken Tenders
Buffalo Chicken Without the Guilt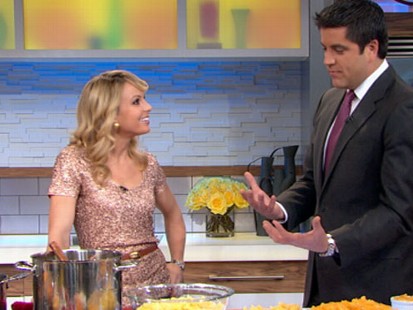 "The View" host talks about her new book "Deliciously G-Free."
From the kitchen of Elisabeth Hasselbeck
If you can't get enough wings but have had enough of the fried and heavily caloric version, you and your guests will be more than happy with this healthy yet spicy makeover. Even a wing connoisseur will love these tenders and figure them for the "real deal."
Ingredients
1/4 cup hot sauce
1 teaspoon gluten-free hot paprika
1/4 teaspoon salt
1 pound chicken tenders
1 tablespoon salted butter
Cooking Directions
Preheat the oven to 375 degrees F.
Combine the hot sauce, paprika, and salt in a small bowl. Brush this marinade over all surfaces of the chicken.
Grease an 11 by 7-inch baking dish with the butter, and spread the chicken out in the dish. Cover, and marinate in the refrigerator for 30 minutes.
Bake, uncovered, for about 15 minutes or until the chicken is no longer pink in the center.
Recipe courtesy DELICIOUSLY G-FREE by Elisabeth Hasselbeck.
This recipe was styled by chef Karen Pickus for Good Morning America.
Recipe Summary
Main Ingredients: hot sauce, paprika, chicken tenders, salted butter
Course: Side Dish
More Info: Kid Friendly, Wheat/Gluten Free