Elisabeth Hasselbeck's Chocolate Devil's Food Cupcakes
A Chocolate Indulgence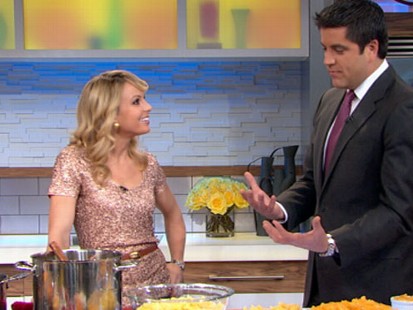 "The View" host talks about her new book "Deliciously G-Free."
From the kitchen of Elisabeth Hasselbeck
|
This dark rich cupcake will make any chocolate-lover's head spin. I live for these cupcakes! Really, I do!. Go ahead and try them yourself, and you will see why.
Ingredients
1 cup boiling-hot water
1 cup gluten-free unsweetened cocoa powder
1 cup brown rice flour
½ cup sweet sorghum f lour
½ cup potato flour
2 teaspoons baking soda
1 teaspoon guar gum
1/8 teaspoon salt
2 cups granulated sugar
8 tablespoons (1 stick) salted butter, at room temperature
2 eggs, at room temperature
1 teaspoon gluten-free vanilla extract
1 cup low-fat buttermilk
Icing
Cooking Directions
Makes 16 cupcakes.
Preheat the oven to 400°F. Line a 12-cup muffin tin with cupcake liners.
In a large bowl, whisk the hot water and cocoa powder together.
In another large bowl, stir together brown rice flour, sorghum flour, potato fl our, baking soda, guar gum, and salt.
Add the sugar and butter to the cocoa mixture. With an electric mixer on high speed, beat until a smooth, shiny mixture forms, about 30 seconds. Then beat in the eggs and vanilla on low speed until incorporated.
Add half of the flour mixture and beat on low speed just until combined; there may be dry spots. Add ½ cup of the buttermilk, mixing on low speed until just incorporated. Repeat with the remaining flour mixture and the remaining buttermilk. Fill each muffin cup to the top with the batter. Reserve the remaining batter and fill 4 more cupcake liners; set aside. Bake for 15 to 20 minutes, until the centers of the cupcakes are firm to the touch.
Remove the cupcakes from the muffin tin and let them cool completely on a wire rack. Repeat with the remaining batter.
Once the cupcakes are cool, use a small spatula or a butter knife to ice them with your choice of icing. Store in an airtight container in the refrigerator for up to 5 days.
Recipe courtesy DELICIOUSLY G-FREE by Elisabeth Hasselbeck.
This recipe was styled by chef Karen Pickus for Good Morning America.
Other Recipes That You Might Like