Elisabeth Hasselbeck's Mac and Cheese
A Gluten-Free Side Dish Your Kids Will Love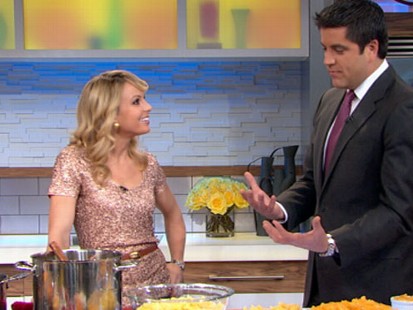 "The View" host talks about her new book "Deliciously G-Free."
From the kitchen of Elisabeth Hasselbeck
Whoever came up with mac and cheese -- the ultimate one-pot meal for picky kids -- was a genius. It was a challenge to make a g-free version that could be as beloved and satisfying as the original . . . but this recipe meets the challenge and then some! Feel free to play around with the cheese/spice combo that works for your young tasters, but try it once as described below. I suspect it'll be a crowd-pleaser.
Ingredients
1 pound gluten-free macaroni: shells, penne, or elbows
3 cups 2% milk
1 teaspoon potato starch
1/2 teaspoon salt
2 tablespoons unsalted butter
2 tablespoons gluten-free reduced-fat cream cheese
1/2 teaspoon gluten-free paprika
1/2 teaspoon gluten-free garlic powder
1/4 teaspoon freshly ground black pepper (optional)
3 cups grated mild cheddar or American cheese, or a mixture
Cooking Directions
Bring a large pot of salted water to a boil. Add the pasta, and cook it for 3 minutes less than the package instructions indicate.
Meanwhile, make the sauce: Combine the milk, the potato starch, and salt in a medium bowl and whisk to combine.
Place the butter and cream cheese in a large stockpot and heat over medium heat. When the cream cheese is soft and the butter has melted, slowly whisk in the milk mixture. Cook, stirring occasionally, until the mixture is hot and has thickened slightly, 3 to 4 minutes. Add the paprika, garlic powder, and pepper if using. Reduce the heat to low and add the cheese. Cook, stirring frequently, until thickened, about 3 minutes.
Drain the pasta, add it to the sauce, and cook for 1 minute, stirring to coat the pasta with the sauce. Serve, and watch them smile!
This recipe was styled by chef Karen Pickus for Good Morning America.
Recipe courtesy DELICIOUSLY G-FREE by Elisabeth Hasselbeck.
Recipe Summary
Main Ingredients: macaroni, milk, butter, american cheese
Course: Side Dish
More Info: Kid Friendly, Wheat/Gluten Free