Elizabeth Karmel's Aunt Betty's Banana Cream Pie
Dig Into a Family Favorite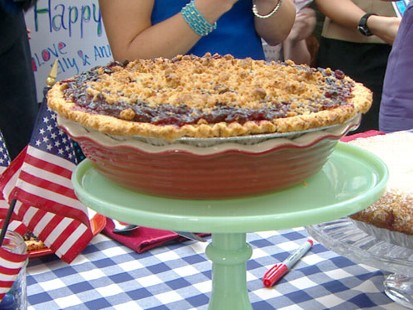 Best pie recipes for your Independence Day cookout.
From the kitchen of Elizabeth Karmel
|
Elizabeth Karmel shares one of her family's favorite recipes. After one bite you'll see why it is a family favorite.
Ingredients
12 egg yolks
3/4 cup granulated sugar
1/3 teaspoon sea salt
3 cups half and half
1½ cups heavy cream
3 teaspoons vanilla
1 12-ounce box of mini Nilla Vanilla wafer cookies
6 ripe bananas, sliced into ¼-inch coin shapes
Whipped cream for topping
Cooking Directions
Prebaked* pie shell
Beat egg yolks, blend in sugar and salt. Add half and half and cream. Cook in a double boiler over simmering water, stirring constantly. When custard coats the back of a spoon, remove from heat. Whisk vigorously to cool. Blend in the vanilla extract. Stir occasionally and let cool slightly. Meanwhile, begin to assemble the pie and make the whipped cream.
The key to this dessert is the layering. In pre-baked pie shell, arrange a layer of vanilla wafers on the bottom, then pudding, then bananas, then pudding, repeating until the pie shell is full. Make sure to use enough banana slices to give the pie a distinctive banana flavor.
Top the pie with real whipped cream that has been lightly sweetened.
*Pre-baking pie crusts: Prick bottom of crust with a fork. Add beans or pie weights on top of parchment if necessary. Bake for 7-10 minutes in a pre-heated 400 F oven.
Remove and cool before adding filling.
This recipe was styled by chef Karen Pickus for "Good Morning America."
*Recipe Courtesy of Elizabeth Karmel, executive chef of Hill Country Chicken
Other Recipes That You Might Like