Elizabeth Karmel's Double Cherry Pie With Streusel Topping
Dig Into This American Favorite.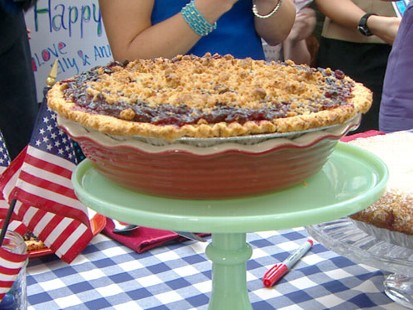 Best pie recipes for your Independence Day cookout.
From the kitchen of Elizabeth Karmel
|
This very special pie is made all the better with two kinds of cherries; sweet bing cherries and sour cherries.
Ingredients
Cherry Mixture:
1 can sour cherries, drained (15oz)
2 cans bing cherries, drained (15oz)
½ cup white granulated sugar
11/2 Tablespoons cornstarch
1 Tablespoon water
1 Tablespoon fresh-squeezed lemon juice
Streusel Topping:
½ cup dark brown sugar
1 stick (¼ pound) unsalted butter, cut into pieces
1 cup all-purpose flour
Pinch sea salt
Pinch cinnamon
Pinch of mace
Cooking Directions
Pre-heat oven to 350 F
In a saucepan, cook half of the cherries with sugar until the sugar is dissolved. Meanwhile, make a slurry with cornstarch and water and add to the pot. Bring to a boil and let cook about 1-2 minutes. Stir in lemon juice, and remaining cherries. Take off the heat and set aside until cool to the touch.
While the filling is cooling, make streusel topping by mixing sugar, butter, flour, salt and spices together with a fork until mixed and crumbly, but not smooth.
Spoon cherry filling into pre-baked pie shell and top with streusel. Bake on a cookie sheet set in the center of the oven for about 30 minutes for a large pie and 15 minutes for a mini pie, or until the topping is browned and the filling is bubbling. Let cool at least an hour to serve warm or refrigerate
once the pie is room temperature, and serve cold.
This recipe was styled by chef Karen Pickus for "Good Morning America."
*Recipe Courtesy of Elizabeth Karmel, Executive Chef of Hill Country Chicken
Other Recipes That You Might Like