Elizabeth Karmel's Double-Nut Pecan Pie
From Hill Country's Executive Chef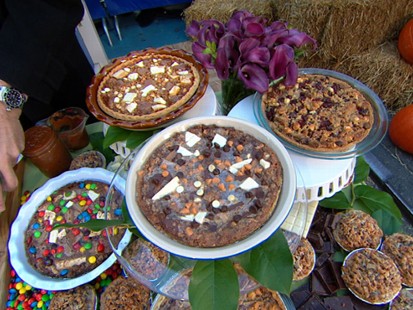 Hill Country Chicken's Elizabeth Karmel prepares various pies for Thanksgiving dessert.
From the kitchen of Elizabeth Karmel
The classic pecan pie made better with the addition of both chopped and whole pecans and a splash of both vanilla and Bourbon.
Ingredients
1 cup whole pecans
1/2 cup chopped pecans
2 tablespoons butter, melted
1/2 cup granulated white sugar
1/2 cup dark corn syrup
1/4 cup light corn syrup
3 large eggs
1 teaspoon pure vanilla extract
1-2 tablespoons of Maker's Mark Bourbon, depending on taste (and can be optional)
Pre-baked 9-inch pie shell
Cooking Directions
Preheat Oven to 350 degrees F.
Put chopped nuts into the bottom of the each prebaked pie shell and set aside.
Combine melted butter, granulated sugar, both light & dark corn syrups, eggs, vanilla and Bourbon.
Pour this mixture on top of chopped nuts. Place a decorative row of whole pecans on the top. Bake about 50-60 minutes on the center rack of the oven or until cooked through. The pie will spring back on top but still giggle a little until it cools. If the top is getting too dark before the center is done, tent with aluminum foil.
Cool for a minimum of three hours. The pie is best made the day before.
Recipe courtesy Elizabeth Karmel, executive chef, Hill Country Chicken and Hill Country Barbecue Market.
This recipe was styled by chef Karen Pickus for Good Morning America.
Recipe Summary
Main Ingredients: pecans, butter, bourbon, corn syrup
Course: Dessert