Elizabeth Karmel's Peach and Blackberry Pie With Streusel Topping
Sweeten Your Holiday With This Dessert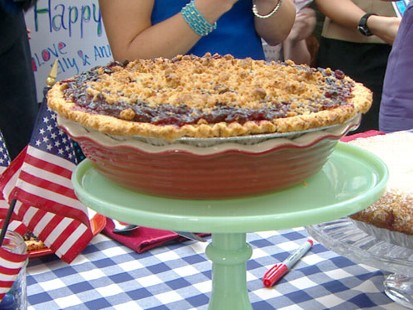 Best pie recipes for your Independence Day cookout.
From the kitchen of Elizabeth Karmel
|
This delicious pie is the best combination of seasonal fruits. Give it a try today.
Ingredients
Ingredients:
1 (9-inch) pie crust, pre-baked
4 generous cups fresh peaches; peeled, pitted and sliced
¾ cup white sugar
3 Tbsp cornstarch
3 Tbsp water
Pinch of salt
Pinch of nutmeg
Pinch of Ginger
1/2 teaspoon vanilla extract
1 generous cup fresh blackberries
1 tablespoon all-purpose flour
Streusel Topping:
½ cup packed dark brown sugar
1 cup all-purpose flour
¼ teaspoon fine-grain sea salt
Pinch of cinnamon
1 stick (¼ lb) unsalted butter, softened
Cooking Directions
Preheat the oven to 375°F.
Cook peaches and sugar in large saucepan until tender, about 5-10 minutes, depending on ripeness. If you use frozen peaches, you will need to cook them longer.
Combine cornstarch and cold water to make slurry, add to cooked fruit and allow it to thicken by cooking for another 3 minutes. Remove from heat and stir in salt, nutmeg, ginger and vanilla. Let cool.
Meanwhile, toss blackberries with flour. Add blackberries to cooled peaches.
Make streusel topping: Combine the sugar, flour and spices until well mixed. Cut in the softened butter to form streusel and set aside.
Transfer fruit to pre-baked pie shell. Sprinkle with streusel topping.
Bake 20-25 minutes in the preheated oven or until topping is golden brown and fruit juices are bubbling.
Let cool and serve with vanilla ice cream.
This recipe was styled by chef Karen Pickus for "Good Morning America."
*Recipe Courtesy of Elizabeth Karmel, executive Chef of Hill Country Chicken
Other Recipes That You Might Like