Elizabeth Karmel's Pumpkin-Sage Cheese Grits
Try This Savory Side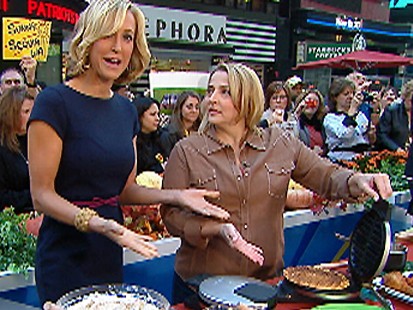 Author of "Taming the Flame" prepares her favorite pumpkin recipes.
From the kitchen of Elizabeth Karmel
|
Southern grits get a fall twist with pumpkin and sage. Try this side dish for Thanksgiving dinner!
Ingredients
3 cups water
1 cup stone ground grits, such as Anson Mills, Red Mule or Bob's Red Mill
½ cup half and half
½ cup grated parmesan cheese
3 tablespoons unsalted butter
6 fresh sage leaves, chiffonade, or 1 teaspoon dried sage
½ cup canned pumpkin puree
Pinch of fresh grated nutmeg
Kosher salt
Freshly ground white pepper
Cooking Directions
Make the grits by boiling the water in a large saucepan or the top of a double-boiler
(the double boiler insures against scorching). Slowly add the grits by sifting them through one hand while whisking with the other. Cover the pan and simmer on a low heat for 25-30 minutes. Stir occasionally to prevent scorching.
Add half and half, cheese and butter, sage and pumpkin and stir well. Continue cooking if grits are undercooked or watery. When they are "just right" season to taste with nutmeg, salt, and white pepper. Set aside, but keep warm until serving.
This recipe was styled by chef Karen Pickus for Good Morning America.
Recipe courtesy Elizabeth Karmel.
Other Recipes That You Might Like