Elizabeth Karmel's Pumpkin Waffles with Ancho Honey Butter
The Best Thanksgiving Breakfast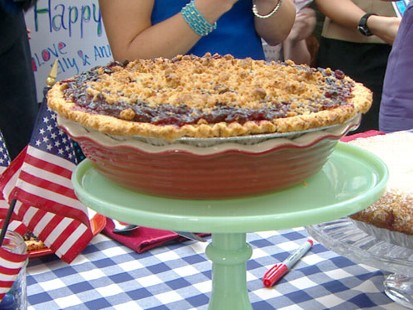 Best pie recipes for your Independence Day cookout.
From the kitchen of Elizabeth Karmel
Stumped on what to make your guests for breakfast this Thanksgiving? These waffles are the perfect breakfast item everyone will love.
Ingredients
3 eggs, separated
1 cup whole milk
1 cup pumpkin puree
2 cups all-purpose flour
1 tablespoon white sugar
1 tablespoon dark brown sugar
3 teaspoons baking powder
½ teaspoon salt
1/2 teaspoon ground cinnamon
½ teaspoon ground ginger
¼ teaspoon ground nutmeg
Pinch of ground cloves*
½ cup or 1 stick of unsalted butter, melted plus some to butter the waffle iron
Maple syrup, Ancho Honey Butter (see recipe) to taste
For the ancho honey butter:
1 tablespoon fresh-squeezed orange juice
Zest of an orange
½ pound of unsalted butter, at room temperature
½ teaspoon ground dried ancho chile peppers
Pinch ground cinnamon
Pinch ground coriander
2 tablespoons honey
1/4 teaspoon kosher salt
Cooking Directions
For the waffles:
Preheat waffle iron.
In a large bowl, beat egg yolks well and add milk and pumpkin puree; mix until well combined.
Meanwhile, sift flour, sugars, baking powder, salt, cinnamon, ginger, nutmeg and salt. Add the dry mixture to the egg-pumpkin mixture and beat until smooth. Add the melted butter and stir until combined.
Beat egg whites in a clean bowl until they form stiff peaks, and fold in to the batter. Do not over-mix the waffle batter.
Brush the iron with a little melted butter and cook waffles according to manufacture'rs instructions.
Serve with Maple syrup and Ancho Honey Butter.
For the butter:
In a food processor fitted with a steel blade or by hand with a blending fork, combine orange juice and zest with half of the butter and puree until smooth. Add the remaining butter and the cinnamon, coriander, honey and salt. Taste and adjust the seasoning.
Transfer to a small bowl or molds and set aside at room temperature.
This recipe was styled by chef Karen Pickus for Good Morning America.
Recipe courtesy Elizabeth Karmel.
Recipe Summary
Main Ingredients: cinnamon, coriander, honey, butter, dark brown sugar, pumpkin
Course: Breakfast, Brunch
More Info: Kid Friendly