Elizabeth Karmel's S'more Pie
Pie and S'mores: Two American Favorites in One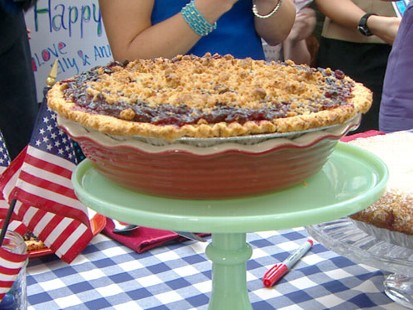 Best pie recipes for your Independence Day cookout.
From the kitchen of Elizabeth Karmel
This recipes brings two American favorites together, s'mores and pie. Give is a try this holiday weekend.
Ingredients
3 large eggs
1 cup granulated sugar
2 tablespoons flour
1 cup buttermilk
1 teaspoon pure vanilla extract
1/2 cup melted bittersweet chocolate, 4 ounces
Pinch of salt
Graham cracker pie shell
Mini Marshmallows
Cooking Directions
Preheat oven to 350 degrees F
Beat eggs, sugar and flour until smooth. Add buttermilk, vanilla, melted chocolate and salt. Whisk until slightly frothy.
Pour into Graham cracker pie shell and bake until custard is lightly brown on top and no longer jiggles in center, about 35 minutes for a whole pie or about 15 minutes for mini pies.
When pie is cool, top with Marshmallows and brown the edges with a brulee torch.
This recipe was styled by chef Karen Pickus for "Good Morning America."
*Recipe Courtesy of Elizabeth Karmel, executive chef of Hill Country Chicken
Recipe Summary
Main Ingredients: egg, buttermilk, chocolate, mini marshmallows
Course: Dessert