Home
>
GMA
>
'GMA' Lunch Break: Ellen Bennett's Cracker Avocado 'Toast' with Feta, Avocado, Lemon Juice
'GMA' Lunch Break: Ellen Bennett's Cracker Avocado 'Toast' with Feta, Avocado, Lemon Juice
Try This Fun Snack!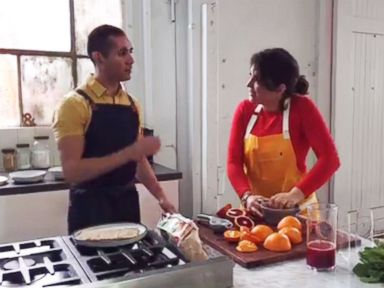 Ellen Bennett, the founder of Hedley and Bennett, shared California cuisine lunch recipes with "GMA" at the Apron Factory in Los Angeles.
From the kitchen of Ellen Bennett
"GMA" caught up with Ellen Bennett, the founder of an apron and kitchen gear company, Hedley and Bennett, at their headquarters for lunch in Los Angeles. Try this avocado "toast" cracker snack with feta and olive oil.
Watch the "GMA" Lunch Break live stream on ABCNews.com/live and the GMA Facebook page every Monday, Wednesday and Friday at 12:30 p.m. ET.
Ingredients
3 or 4 Wasa crackers
2 avocados, sliced into wedges (Bacon avocados recommended if available)
feta cheese (in water)
2 lemon wedges
olive oil
salt and pepper
Cooking Directions
Spread avocado on crackers.
Top with crumbled feta.
Drizzle olive oil and squeeze lemons, salt and pepper to taste.
Recipe Summary
Main Ingredients: avocado, lemon, feta cheese
Course: Snack, Lunch