'GMA' Lunch Break: Ellen Bennett's Favorite Farro Bowl
Try This Healthy Dish From the 'GMA' Lunch Break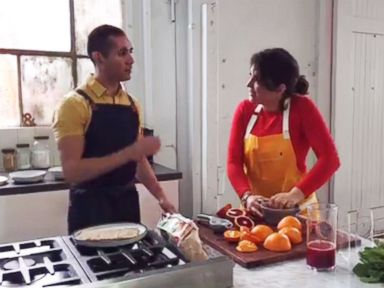 Ellen Bennett, the founder of Hedley and Bennett, shared California cuisine lunch recipes with "GMA" at the Apron Factory in Los Angeles.
From the kitchen of Ellen Bennett
"GMA" caught up with Ellen Bennett, the founder of an apron and kitchen gear company, Hedley and Bennett, at their headquarters for lunch in Los Angeles. Try her recipe for a farro bowl topped with pesto sauce, a sunny side up egg, watermelon radish and more.
Watch the "GMA" Lunch Break live stream on ABCNews.com/live and the GMA Facebook page every Monday, Wednesday and Friday at 12:30 p.m. ET.
Ingredients
1 cup cooked farro
1 tablespoon pesto (store bought or homemade)
1 egg
1 watermelon radish, sliced using a mandolin
handful of finely chopped kale
handful of crushed almonds
sprinkle of dried currants
sprinkle of crumbled feta (in water)
drizzle of olive oil
lemon wedge
Cooking Directions
In a bowl, mix pesto into cooked farro.
Fry an egg over medium heat using a bit of grape seed oil or butter until edges are crispy, then transfer egg on top of pesto farro.
Top with radish, kale, almonds, currants and feta.
Drizzle with olive oil and squeeze lemon wedge on top.
Recipe Summary
Main Ingredients: farro, pesto, kale, egg