Elmo's Chicken Pot Pie
Kid-Friendly Meal from Elmo's Kitchen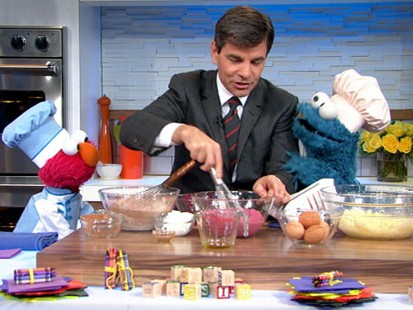 "Sesame Street" stars share their favorite baking recipes with "GMA."
From the kitchen of From the Sesame Street Kitchen
|
This is a delicious recipe your kids can help with, and the whole family can enjoy. Get your children involved in the vegetable preparation. Older children can use a plastic knife to slice the mushrooms, while younger kids can use their fingers to break the mushroom caps apart.
Ingredients
For the Filling:
1 cup cremini or white button mushrooms, stems removed
1 T olive oil
1 onion, finely chopped
1 carrot, peeled and finely chopped
1 small stalk celery, thinly sliced
1 small potato, such as Yukon Gold, peeeled and finely diced
2 T all-purpose flour
3/4 cup vegetable broth or bouillon
3/4 cup low-fat milk
1 cup diced, cooked chicken
1/2 cup frozen petit peas, thawed
1/2 cup frozen corn kernels, thawed
For the Buttermilk Biscuit Topping:
1/2 cup all-purpose flour
1/4 cup whole-wheat flour
1/2 tsp baking powder
1/4 tsp salt
1 T cold butter, cut into pieces
1/4 cup greated Parmesan cheese (optional)
1/2 cup buttermilk
2 tsp olive oil
Cooking Directions
Preheat the oven to 400°F.
With the help of an adult, use a plastic knife to slice the mushrooms, or use your fingers to simply break them into small pieces.
Heat the oil in a large saucepan over medium heat. Add the onion and sauté 2 minutes. Add the carrots and celery and cook 5 minutes longer. Stir in the potatoes and cook 5 minutes longer. Stir in the mushrooms and cook 3 minutes longer.
Sprinkle the flour over the vegetables and stir to dissolve. Cook for 2 minutes, stirring occasionally. Slowly stir the broth and milk into the vegetable mixture in the saucepan until a smooth sauce forms. Cook over low heat, stirring often, for 5 minutes or until the sauce is thickened. Remove from heat and stir in the chicken, peas, and corn. Pour the mixture into a 11/2-quart baking dish.
Tip: To make individual pot pies, use 12-ounce ramekins or ovenproof bowls. Divide the filling evenly among the bowls, top each with a scoop of biscuit topping, and bake as directed, checking after 25 minutes.
In a large bowl, whisk together the all-purpose flour, whole-wheat flour, baking powder, baking soda, and salt. Add the butter pieces and use your fingers to mix the butter into the flour mixture until crumbly. With a spoon, stir in the Parmesan cheese, if using. Stir in the buttermilk and oil just until mixed.
Use a big spoon to scoop up the biscuit dough and drop it on top of the vegetable filling, all around the edges of the baking dish.
Place the baking dish on a baking sheet. Bake 30 minutes, or until biscuit topping is golden brown and filling is bubbly. Transfer to rack for 10 minutes to cool slightly before serving.
Recipe courtesy of Sesame Street "B" is for Baking: 50 Yummy Dishes to Make Together by Sesame Workshop.
This recipe was styled by chef Karen Pickus for Good Morning America.
Recipe Summary
Main Ingredients: mushrooms, flour, salt, olive oil, peas, corn, milk, chicken, potatoes, carrots, celery, onion, buttermilk
Course: Dinner
More Info: Kids Friendly
Other Recipes That You Might Like