Elmo's Red Velvet Cupcakes
Kid-Friendly Dessert from Sesame Street's Kitchen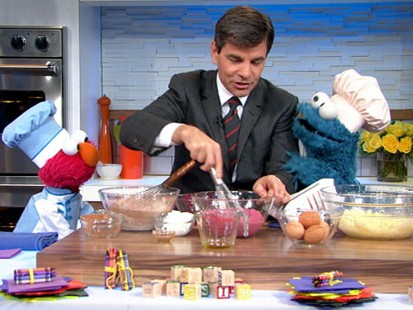 "Sesame Street" stars share their favorite baking recipes with "GMA."
From the kitchen of From the Sesame Street Kitchen
|
These are Elmo's favorite cupcakes because the batter turns slightly red, like him! Your children will love stirring the hot pink beet puree into the yogurt mixture and then mixing it into the batter.
Ingredients
For the Cake:
2 1/2 cups all-purpose flour
1/2 cup unsweetened cocoa powder
1 tsp baking powder
1 tsp baking soda
1/4 tsp salt
1 cup low-fat plain yogurt
1 can (15 oz) sliced, no-salt-added beets, drained and pureed with 1/4 cup of their liquid until almost smooth
1/2 cup olive oil or vegetable oil
1 tsp vanilla extract
1/2 cup (1 stick) butter, at room temperature
2 cups granulated sugar
5 large eggs
For the Whipped Cream Topping
1/2 pint heavy or whipping cream
1/4 cup confectioner's sugar
Cooking Directions
Preheat the oven to 325 degrees.
Line 36 muffin pan cups with cupcake liners.
In a large bowl, whisk together the flour, cocoa powder, baking powder, baking soda and salt. In a medium bowl, with a rubber spatula, stir together the yogurt, beet puree, oil and vanilla until smooth.
In another large bowl, with an electric mixer at medium-high speed, cream teh butter and granulated sugar until fluffy. Add the eggs, one at a time, beating well after each. Add the flour mixture alternately with the yogurt mixture.
Use a 1/4 cup dry measure to fill the cupcake liners half-full with batter.
Bake for 18 to 20 minutes, or until a toothpick inserted in the center of a cupcake comes out clean. Transfer pans to racks to cool for 10 minutes. Transfer cupcakes from pans to rack to cool completely before frosting.
Shortly before serving, in a medium bowl with an electic mixer on medium-high speed, beat the heavy cream and confectioner's sugar until stiff peaks just form.
Use a spoon to put a small dollop of whipped cream topping on each cupcake just before serving.
This recipe was styled by chef Karen Pickus for Good Morning America.
Other Recipes That You Might Like