Emeril Lagasse's Oven Baked Barbecue Baby Back Ribs
A Family-Friendly Recipe for Your Summer Barbecue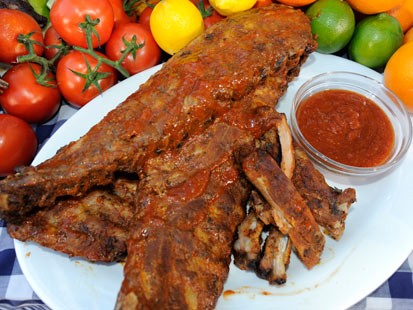 From the kitchen of Emeril Lagasse
Knowing what to throw on the grill this summer is a sizzling priority. "Good Morning America" and Emeril Lagasse have teamed up to bring you just the meals you need.
Ingredients
2 racks baby back ribs
6 tablespoons Emeril's Rib Rub spice blend
1 1/2 teaspoons salt
1 teaspoon freshly ground black pepper
1 teaspoon celery salt
Emeril's Sweet Barbecue Sauce, Emeril's Hoison BBQ Sauce or Emeril's Root Beer and Bourbon Glaze, or your favorite barbecue sauce
For the Rustic Rub:
8 tablespoons paprika
3 tablespoons cayenne
5 tablespoons freshly ground black pepper
6 tablespoons garlic powder
3 tablespoons onion powder
6 tablespoons salt
2 1/2 tablespoons dried oregano
2 1/2 tablespoons dried thyme
Cooking Directions
Preheat the oven to 300 degrees. Line a large baking sheet with a piece of aluminum foil that is large enough to cover the pan twice (you will be folding this over the ribs and sealing it).
Arrange the ribs, meat side up, in one layer on the prepared baking sheet. In a small bowl, combine the Rib Rub (recipe below), salt, pepper, and celery salt, and stir to combine. Divide the seasoning evenly between the 2 slabs of ribs, coating them well on both sides. Fold the extra length of foil over the ribs, and seal it tightly on all sides. Place the ribs in the oven and bake, undisturbed, for 2 1/2 to 3 hours, or until the ribs are very tender.
Preheat a grill to medium-high (or leave the oven on).
Remove the ribs from the oven and peel back the foil so that the ribs are exposed. Using a pastry brush or the back of a spoon, coat the racks lightly on the meaty sides with the Sweet Barbecue Sauce. Place the slabs of ribs, meaty side up, on the grill and cook until the barbecue sauce is thickened and lightly browned, 5 to 10 minutes. Alternatively, return to the oven until sauce is thickened and lightly browned, about 20 minutes longer.
Remove the ribs from the grill (or the oven) and set aside to cool briefly before cutting between the ribs and serving. Serve with more barbecue sauce, if desired.
For the Rustic Rub: Combine all ingredients and store in an air-tight container. Yield: 2 1/4 cup
Recipe courtesy Emeril Lagasse, copyright MSLO, Inc., all rights reserved
This recipe was styled by chef Karen Pickus for Good Morning America.
Recipe Summary
Main Ingredients: baby back ribs, paprika, mustard powder, crushed red pepper
Course: Dinner, Lunch, Main Course