Emeril Lagasse's Apple Cider-Braised Chicken and Cabbage
Flavor Your Chicken With Apple Cider for a Delicious Fall Meal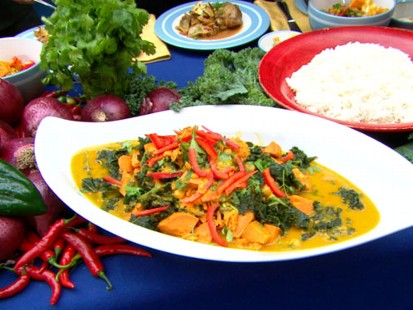 Fall is ushered in with Emeril Lagasse's braised chicken and tortilla soup.
From the kitchen of Emeril Lagasse
Kick your weekday chicken dish up a notch with an apple cider braise that will bring home the taste of fall and send your guests running back for seconds!
Ingredients
½ pound Applewood smoked bacon, chopped
3 pounds chicken thighs, trimmed of excess fat
¼ teaspoon ground allspice
2 teaspoons salt
1 teaspoon freshly ground black pepper
2 cups chopped onion
1 bulb of fennel, chopped, about 1½ cups (reserve ¼ cup chopped fennel fronds for garnish)
2 Fuji, Gala, or Granny Smith apples, peeled and cut into ½-inch dice
2 tablespoons fennel seeds
3 pounds cabbage, cored and chopped into large pieces
½ cup Apple Jack, or other apple brandy
1 to 2 cups apple cider, as needed
Fennel fronds, for garnishing
Grilled apples, optional, for garnishing
Apple chips, optional, for garnishing
Cooking Directions
Add the bacon to a 6-quart or larger round Dutch oven set over medium-high heat and cook until fat is rendered and bacon is crispy, about 6 minutes.
Remove the bacon with a slotted spoon and set aside to drain on paper towels. Discard (or save for later use) all but 1 tablespoon of bacon fat from the pot.
Season the chicken with the allspice, 1 teaspoon of the salt and ½ teaspoon of the pepper. Add the chicken pieces, skin side down, to the pan, (in batches as necessary), and cook until nicely browned, 3 to 4 minutes per side.
Remove the chicken pieces and set aside.
Add the onion, chopped fennel, apples, and fennel seeds to the pan and cook, stirring frequently, for 5 minutes, then return the bacon to the pan.
Increase the heat to high and add half of the cabbage, the remaining 1 teaspoon salt and ½ teaspoon pepper and cook, stirring, until cabbage is slightly softened, about 5 minutes. Add the remaining cabbage to the pan and cook for 5 minutes longer. Stir in the Apple jack and once evaporated, return the chicken to the pan, nestling it in the cabbage.
Add the apple cider, as needed to cover chicken and bring to a boil. Reduce heat to low, cover and simmer until the chicken is very tender, 50 minutes to 1 hour.
Serve in shallow bowls with fennel fronds, grilled apples, and apple chips, as desired.
This recipe was styled by chef Karen Pickus for Good Morning America.
Recipe courtesy Emeril Lagasse.
Recipe Summary
Main Ingredients: apple cider, chicken, cabbage, bacon, apples, brandy
Course: Dinner