Emeril Lagasse's Chocolate Peanut Butter Pie
Try This Indulgent Dessert Tonight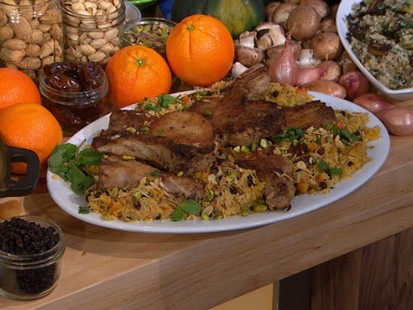 Emeril Lagasse prepares one-pot wonders from his new book, "Sizzling Skillets."
From the kitchen of Emeril Lagasse
|
Ingredients
1½ cups finely ground graham cracker crumbs
1 cup finely ground Oreo® cookies (cream filling removed)
4 tablespoons (½ stick) unsalted butter, melted
4 tablespoons granulated sugar
4 ounces cream cheese, room temperature
¼ cup confectioners' sugar
2 tablespoons milk
4 ounces melted semi-sweet chocolate
2/3 cup smooth peanut butter
1 cup heavy cream
¼ cup toasted chopped peanuts
Chocolate Sauce Recipe
For the Chocolate Sauce:
¾ cup half-and-half
½ pound semi-sweet chocolate chips
¼ teaspoon vanilla extract
1 tablespoon unsalted butter
In a small heavy saucepan bring the half-and-half to a bare simmer over medium-low heat. Remove from the heat.
Cooking Directions
Preheat the oven to 375ºF.
Combine the graham cracker crumbs, Oreo cookie crumbs, butter, and sugar in a medium bowl. Cream together with your hands. Press the mixture firmly into a 9-inch pie pan, and bake for 15 minutes. Remove the pan, let it cool completely, wrap it with plastic wrap and then place the pan in the freezer for at least 1 hour and up to 2 weeks. Allow the crust to come to room temperature before filling.
Combine the cream cheese, confectioners' sugar, and milk in a large bowl. Beat using an electric mixer until well blended and smooth, about 1 minute on medium speed. Add the melted chocolate and peanut butter and continue to blend for another minute on medium speed. Combine the cream with the remaining 2 tablespoons of sugar in another medium bowl. Beat with a whisk or electric mixer until stiff peaks form. Gently fold the whipped cream into the chocolate and peanut butter mixture until thoroughly incorporated and smooth. Pour the filling into the pie tin. Smooth the top of the pie with a spatula, cover, and refrigerate for at least 2 hours before serving.
To serve, use a hot wet knife to slice the pie into 8 portions. Garnish with peanuts and drizzle with chocolate sauce.
Makes one 9-inch pie, about 8 servings
For the chocolate sauce:
Place the chocolate and vanilla in a medium, heatproof bowl. Whisk the cream slowly into the chocolate. Add the vanilla and butter to the sauce and whisk until the butter is completely incorporated. Serve slightly warm.
The sauce can be kept refrigerated in an airtight container for several days, but it must be returned to room temperature before serving.
Makes 1½ cups
Recipe courtesy Emeril Lagasse, from Emeril's Potluck, William Morrow Publishers, 2004, copyright MSLO, Inc., all rights reserved
This recipe was styled by chef Karen Pickus for Good Morning America.
Other Recipes That You Might Like