Emeril Lagasse's Curry-Scented Roasted Cauliflower
A Veggie Side Dish Your Family Will Love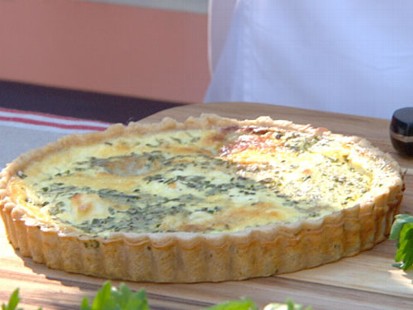 TV chef also prepares curry-scented cauliflower and watermelon limeade for a spring picnic.
From the kitchen of Emeril Lagasse
|
Chef Emeril Lagasse cooks up this delicious, spring side dish.
Ingredients
2 small heads cauliflower (3 to 3 1/2 pounds total), cored and cut into medium florets
6 tablespoons ghee or clarified butter, melted *
2 teaspoons kosher salt
2 teaspoons curry powder
1/2 teaspoon cayenne pepper
1/4 teaspoon garam masala*
Cooking Directions
Preheat the oven to 400°F.
Place the cauliflower in a large mixing bowl.
In a smaller mixing bowl, combine the ghee and all the remaining ingredients. Stir to blend well, and then pour the spice mixture over the cauliflower. Toss until the cauliflower is thoroughly coated with the ghee and spices.
Transfer the cauliflower to a large baking sheet, and roast until it is caramelized around the edges and crisp-tender, 18 to 20 minutes, stirring it once midway through cooking. Serve hot.
*Notes:
Gheeis butter that has been slowly melted until the solids and liquid separate. The solids fall to the bottom and the butter is cooked until the milk solids are browned and the moisture evaporates, resulting in a nutty, caramel-like flavor. This last step is what defines ghee from regular clarified butter.
Ghee is used primarily in Indian cooking, but is wonderful for any high-heat cooking preparation
since it has a higher smoke point than butter. You can find it in many Middle Eastern markets or you can easily make your own at home.
This recipe was styled by chef Karen Pickus for Good Morning America.
Recipe courtesy Emeril Lagasse, from Farm to Fork: Cooking Local, Cooking Fresh, HarperStudio Publisher, New York, 2010, copyright MSLO, Inc., all rights reserved
Other Recipes That You Might Like