Emeril Lagasse's Gluten-Free Pizza
A tasty and healthy crave-quenching treat!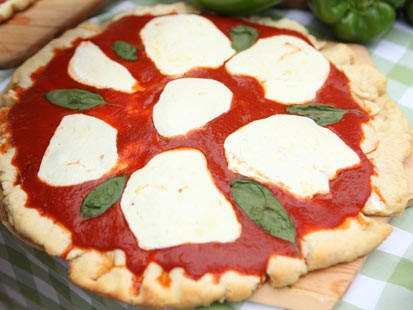 From the kitchen of Emeril and Jilly Lagasse
|
For us, pizza is just one of those comfort foods that we must eat on a regular basis. A nice spicy sauce, fresh toppings, and, of course, a delicious crust make pizza a craving-quenching treat we love. This recipe from our dad produces a terrific gluten-free crust from scratch-no premixed flour blends here! You can top this pizza crust with any and all your favorite toppings. White sauce or red, sausage or shrimp, this crust will complement them all!
Ingredients
1 cup warm water (no hotter than 110 degrees F.)
2 tablespoons active dry yeast
1 tablespoon sugar
Vegetable oil spray
2 cups white rice flour
½ cup soy flour
2/3 cup instant nonfat dry milk powder
2 cups tapioca flour
3 teaspoons xanthan gum
1 teaspoon salt
3 tablespoons olive oil
½ cup hot water
4 large eggs, whites only, at room temperature
Favorite sauce and topping ingredients
Cooking Directions
1. Preheat the oven to 400 degrees F.
2. Combine the 1 cup warm water, 2 tablespoons active dry yeast, and sugar. Set aside until the yeast is foamy, about 5 mintues.
3. Liberally spray two large baking pans with nonstick cooking spray and set aside.
4. Combine the white rice flour, soy flour, milk powder, tapioca four, xanthan gum, and salt in the bowl of a standing mixer with paddle attached. Mix on low until the flour is well incorporated. Little by little add the olive oil and the ½ cup of hot water.
5. Slowly drizzle in the egg whites until the mixture is fully incorporated. Add the yeast mixture and combine. Increase the speed to high and mix for 4 minutes.
6. Remove the dough from the mixing bowl and evenly divide into two balls. Place one of the dough balls onto each pan. Using lightly greased hands, gently press each portion of dough into a 14 to 16- inch circle about ¼ inch thick, leaving the dough around the edges a bit thicker. Set aside for 10 minutes to rise.
7. Place the dough into the oven and let cook for 5 minutes.
8. Remove from the oven and top with your favorite sauce and ingredients.
9. Place back into the oven and continue to cook until the crust is golden brown and crispy, 10 to 12 minutes longer. ( Note: it is important that the baking pan is liberally greased; otherwise the dough will stick. If this happens, use a flat metal spatula to separate the dough from the pan.)
This recipe was styled by chef Karen Pickus for Good Morning America.
Recipe courtesy Emeril Lagasse, copyright MSLO, Inc., all rights reserved
Other Recipes That You Might Like