Emeril Lagasse's Herbed Quiche With Blue Cheese
The Perfect Dish for Your Spring Feast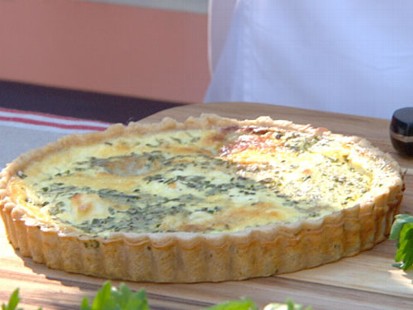 TV chef also prepares curry-scented cauliflower and watermelon limeade for a spring picnic.
From the kitchen of Emeril Lagasse
|
Dine on Emeril's herbed quiche with Maytag blue cheese for a fabulous and delicious lunch or dinner.
Ingredients
For the quiche:
1 Savory Pie Crust (recipe follows)
6 ounces cream cheese, at room temperature
2 ounces Maytag blue cheese, at room temperature
2 tablespoons unsalted butter, at room temperature
3 eggs
1 cup heavy cream
1 cup whole milk
1/2 teaspoon salt
1/4 teaspoon freshly ground black pepper
3 tablespoons chopped fresh mixed herbs, such as parsley, thyme, tarragon, chives, and/or oregano
For the pie crust:
11/4 cups all-purpose flour
1 teaspoon salt
1/2 teaspoon freshly ground black pepper
8 tablespoons (1 stick) cold unsalted butter, cut into pieces
3 to 4 tablespoons ice water
Cooking Directions
Preheat the oven to 400°F.
On a lightly floured surface, roll out the pie crust dough to 1/8-inch thickness to fit an 8-inch fluted tart pan. Fill the pan with the dough, easing the dough into the bottom and lightly pressing it against the sides. Trim off the excess dough.
Line the pastry shell with parchment paper, and fill it with ceramic pie weights or dried beans. Place the tart pan on a baking sheet, and bake for 9 minutes. Remove the baking sheet from the oven and set the tart pan on a wire rack to cool. Remove the parchment paper and the weights.
Reduce the oven temperature to 375°F.
In a medium bowl, whisk together the cream cheese, blue cheese, and butter. Whisk in the eggs until well blended. Stir in the cream, milk, salt, pepper, and herbs. Pour the filling into the partially baked pie shell. Return the tart pan to the baking sheet and bake, rotating the quiche halfway through, until it is puffed and golden brown, 25 minutes. The quiche is done when a knife inserted in the center comes out clean.
Remove the tart pan from the baking sheet and set it on a wire rack to cool for at least 5 minutes before slicing. Serve hot, warm, or at room temperature.
For the pie crust:
Place the flour, salt, and pepper in the bowl of a food processor, and pulse to combine. Add the butter and process until the mixture resembles coarse crumbs. While the machine is running, gradually drizzle in the water, processing until the dough comes together to form a ball.
Transfer the dough to a lightly floured surface and shape it into a flat disk. Wrap it in plastic wrap and refrigerate it for at least 1 hour or up to overnight. (The dough can be frozen for up to a month; thaw in the refrigerator before using.) Makes one 9- or 10-inch pie shell.
This recipe was styled by chef Karen Pickus for Good Morning America.
Recipe courtesy Emeril Lagasse, from Farm to Fork: Cooking Local, Cooking Fresh, HarperStudio Publisher, New York, 2010, copyright MSLO, Inc., all rights reserved
Other Recipes That You Might Like