Emeril Lagasse's Kale and Chickpea Stew
Get Your Vegetables In a Flavorful Kale and Chickpea Stew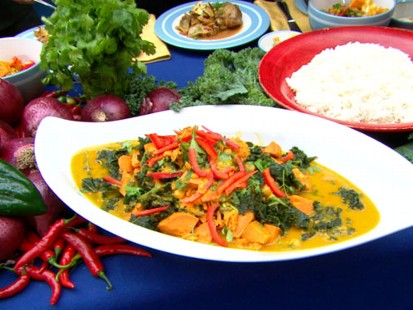 Fall is ushered in with Emeril Lagasse's braised chicken and tortilla soup.
From the kitchen of Emeril Lagasse
Sneak your daily veggies in with this warm and comforting Kale and Chickpea Stew. The sweet potatoes, jasmine rice and kale turn this stew into a hearty meal, while the seasonings and unique ingredients give it a one-of-a-kind, delicious flavor!
Ingredients
1 tablespoon olive oil
¼ cup ghee (clarified butter)
1 medium yellow onion, chopped
2 cloves garlic, minced
2 teaspoons fresh ginger, chopped
1 teaspoon freshly ground coriander seeds
1 teaspoon freshly ground cumin seeds
3/4 teaspoon ground turmeric*
¼ teaspoon cayenne pepper, optional
¼ teaspoon whole yellow mustard seeds
2 large sweet potatoes, peeled and cut into 1 inch cubes
One 19-ounce can chickpeas, drained
5 cups vegetable stock or canned, low-sodium vegetable broth
1 pound kale, stems removed and cut into bite size pieces
1 ½ teaspoons Kosher salt
1 cup canned unsweetened coconut milk
Cooked jasmine rice, for serving
2 tablespoons chopped cilantro, for garnish
¼ cup julienned red bell pepper, for garnish
*Cook's Note:
Turmeric is a rhizome that is used widely in Indian cooking. It is one of the main ingredients in curry, lending it a distinctive flavor. Turmeric has a slightly bitter flavor. It is used as a food coloring for cheese, butter and mustard thanks to its bright yellow color. Turmeric is also considered a super antioxidant and is used in both Indian and Chinese herbal medicines.
Cooking Directions
In a large sauce pan or Dutch oven heat the ghee over medium heat.
Add the onion and cook for 3 minutes or until translucent. Add the garlic and ginger and cook for another 2 minutes.
Add the coriander, cumin, turmeric, cayenne, and yellow mustard seeds and cook for 1 minute longer.
Add the sweet potatoes, chickpeas, vegetable broth, kale, and salt and increase the heat to medium high.
As soon as the stew begins to simmer, reduce the heat to medium low and gently simmer for 35 minutes or until the sweet potatoes are tender.
Stir in the coconut milk and cook for 15 minutes longer.
Serve with the jasmine rice and garnish with the chopped cilantro and red bell pepper.
This recipe was styled by chef Karen Pickus for Good Morning America.
Recipe courtesy Emeril Lagasse.
Recipe Summary
Main Ingredients: jasmine rice, ghee, sweet potatoes, kale, vegetable broth, cumin, pepper, coconut milk, oil
Course: Dinner, Main Course, Soup
More Info: Kid Friendly