Emeril Lagasse's Sandwich Caprese
Emeril Lagasse's Sandwich Caprese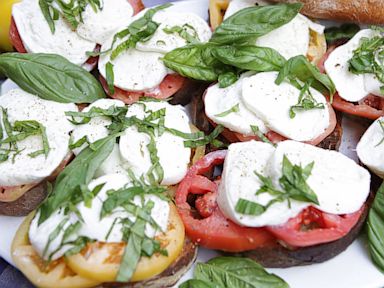 From the kitchen of Emeril Lagasse
You can't beat a traditional sandwich caprese in the summer. Emeril Lagasse is a crowd-pleaser with fresh basil, mozzarella di bufala and ripe heirloom tomatoes on ciabatta.
Ingredients
1 loaf ciabatta, sliced crosswise into 1-inch-thick slices (at least 8 slices)
1 tablespoon chopped garlic
¼ cup olive oil
Salt and freshly ground black pepper, for seasoning
2 tablespoons chopped fresh basil leaves, plus 1/2 cup basil chiffonade
8 ounces mozzarella di bufala, cut into ¼-inch-thick slices
2 pounds ripe heirloom tomatoes, cut into 1/2-inch-thick slices
Very good-quality extra-virgin olive oil, for drizzling
Cooking Directions
Preheat the oven to 400°F.
Arrange the slices of bread on a baking sheet. Combine the chopped garlic with 2 tablespoons of the olive oil, and brush over both sides of the bread. Lightly season them with salt and pepper, and bake for 10 minutes. Carefully turn the slices over and toast for 2 minutes longer. Remove from the oven. Combine the chopped basil with the remaining 2 tablespoons olive oil, and brush over the warm toast.
Shingle the mozzarella evenly over the toast. Shingle the tomato slices over the mozzarella. Lightly season the tomatoes with salt and pepper, top with the basil chiffonade, and drizzle with extra-virgin olive oil. Serve immediately.
This recipe was styled by chef Karen Pickus for "Good Morning America."
Recipe courtesy Emeril Lagasse, from Emeril's Kicked-Up Sandwiches: Stacked with Flavor, HarperCollins Publisher, New York, 2012, copyright MSLO, Inc., all rights reserved
Recipe Summary
Main Ingredients: mozzarella di bufala, ciabatta, olive oil, garlic, fresh basil
Course: Main Course