Emeril Lagasse's Tortilla Soup
Taste the Flavors of a Warm Tortilla Soup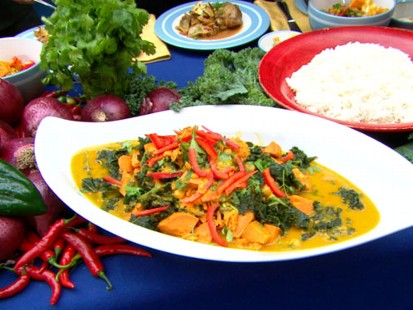 Fall is ushered in with Emeril Lagasse's braised chicken and tortilla soup.
From the kitchen of Emeril Lagasse
Stay warm on a chilly fall night with this flavorful tortilla soup, full of chicken, vegetables, cheese and a special crispy topping!
Ingredients
1 pound boneless, skinless chicken breasts sliced into strips
2 teaspoons ground cumin
2 teaspoons ground coriander
1 teaspoon chile powder
2 tablespoons vegetable oil
2 cups chopped red onion
2 teaspoons chopped garlic
1 large poblano pepper, seeded and finely chopped, about 1 cup
1 jalapeno pepper, seeded and finely chopped
8 cilantro stems, tied in a bundle
1½ teaspoons salt, plus more for seasoning
1 tablespoon tomato paste
8 cups chicken stock or canned low-sodium chicken broth
1 tablespoon freshly squeezed lime juice, plus additional for garnishing
Vegetable oil for frying
Six to eight 6-inch corn tortillas cut into 1/4 inch thick strips
½ cup chopped fresh cilantro leaves, for garnish
1 avocado, peeled seeded and chopped, for garnish
1 cup grated Queso Quesadilla or Manchego cheese, for garnish (optional)
Cooking Directions
Season the chicken strips with the cumin, coriander, and chile powder.
Heat the oil in a 4-quart or larger soup pot over medium-high heat, add the chicken and cook until browned, about 5 minutes.
Add the onion, garlic, poblano, jalapeno, cilantro stems, and the 1½ teaspoons salt, and cook, stirring as needed, for 10 minutes, or until the onions are soft and lightly caramelized.
Add the tomato paste and cook for 1 minute longer. Add the chicken stock. Increase heat to high and bring to a boil, reduce the heat to a simmer and cook for 20 to 40 minutes. Remove cilantro stems, stir in the lime juice, and remove from the heat.
Heat 2-inches of vegetable oil in a 12-inch wide or larger sauté pan to 370°F. Fry the tortilla strips in batches, stirring frequently with a slotted spoon or strainer, until golden and crisp, 1½ to 2 minutes. Remove from the oil and set aside on paper towels to drain. Season the tortilla strips lightly with salt.
Crumble a large handful of tortilla strips and gently stir into the soup, to thicken. Ladle the soup into bowls. Garnish with additional lime juice, cilantro leaves, avocado, grated cheese, if desired, and fried tortilla strips.
This recipe was styled by chef Karen Pickus for Good Morning America.
Recipe courtesy Emeril Lagasse.
Recipe Summary
Main Ingredients: chicken breasts, cilantro, chicken stock, cheese, peppers, onion, tomato paste
Course: Dinner, Main Course, Soup
More Info: Kid Friendly