Home
>
GMA
>
Recipes Home
>
Emeril's Bacon and Cheese-Stuffed Burgers with Green Peppercorn Mayo
Emeril's Bacon and Cheese-Stuffed Burgers with Green Peppercorn Mayo
A Delicious Barbecue Indulgence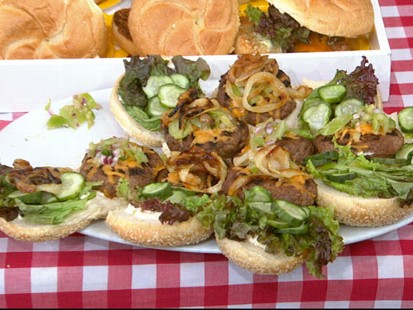 The famed chef grills up some of his summer favorites.
From the kitchen of Emeril Lagasse
|
Ingredients
For the Burgers:
2 1/2 pounds boneless beef chuck roast, coarsely ground by your butcher (or ground chuck, 85/15 blend)
3 tablespoons Worcestershire sauce
1 tablespoon minced garlic
1 tablespoon chopped fresh thyme leaves
1 1/2 teaspoons salt
6 ounces cheddar cheese, cut into 6 chunks
6 slices applewood smoked bacon, cooked crisp and crumbled
6 Kaiser rolls
6 tablespoons vegetable oil
1/2 teaspoon coarse salt
Green Peppercorn Mayo, for serving, recipe follows
Lettuce leaves, for serving
Tomato slices, for serving
Red onion slices, for serving
For the Green Peppercorn Mayo:
1 egg yolk
2 tablespoons white wine vinegar
2 teaspoons Dijon mustard
4 teaspoons green peppercorns, drained
1 cup vegetable oil
1/2 teaspoon salt
Cooking Directions
Make the mayo: In the bowl of a food processor, combine the egg yolk, vinegar, mustard, and peppercorns and process for 30 seconds. While the machine is still running, add the oil through the feed tube to form an emulsion. Add the salt. Transfer the mayonnaise to a container, cover, and refrigerate, up to 3 days until ready to use.
Make the burgers: Add the beef to a mixing bowl. Add the Worcestershire, garlic, thyme, and salt. Using gloved hands, gently toss the mixture to combine. Divide the mixture into six portions (about 6 ounces each) and form into balls. Make a deep hole in the middle of a burger with your fingers. Press a chunk of the cheese inside the hole, and sprinkle some of the crumbled bacon over the cheese, then fold edges of burger over the cheese and bacon to completely enclose. With the palm of your hands, flatten the burger into a thick 4-inch wide disk, and then pinch all around the edges. Set the stuffed burger aside on a parchment-lined tray. Repeat with the remaining burgers, cover, and refrigerate until ready to cook.
Heat a grill to high heat. Liberally brush the insides of the Kaiser rolls with the vegetable oil. Add the buns to the grill to toast, 1 to 2 minutes. Remove them from the grill and set aside.
Sprinkle the coarse salt over the outside of the burgers and grill them for about 3 minutes without moving. Flip the burger onto the other side and cook for 2 to 3 minutes longer for medium rare, or until desired degree of doneness. Remove the burgers from the grill and serve with condiments as desired.
Serve immediately.
Recipe courtesy Emeril Lagasse, copyright MSLO, Inc., all rights reserved
This recipe was styled by chef Karen Pickus for Good Morning America.
Other Recipes That You Might Like