Emeril's "BLT" Risotto
A Classic Sandwich Becomes a Creamy Risotto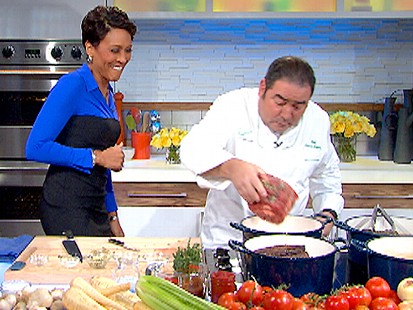 Chef prepares dish from his book, "Sizzling Skillets and Other One-Pot Wonders."
From the kitchen of Emeril Lagasse
Bacon, tomatoes and cheese make this risotto extra delicious. Fresh thyme and baby spinach add a pop of green!
Ingredients
6 cups chicken stock or canned low- sodium chicken broth
6 ounces thick- cut bacon, diced
1 cup chopped yellow onion
3/4 teaspoon kosher salt
1/2 teaspoon freshly ground black pepper
1 teaspoon minced garlic
1 1/2 teaspoons chopped fresh thyme leaves
1 1/2 cups Arborio or Carnaroli rice
3/4 cup dry white wine
1 pound vine- ripened tomatoes, cored, seeded, and diced (about 1 1/2 cups)
5 ounces baby spinach
2 tablespoons unsalted butter
2 ounces Parmigiano- Reggiano cheese, finely grated (about 3/4 cup)
Cooking Directions
Place the stock in a small saucepan and bring to a bare simmer. Keep warm over low heat.
In a 12- inch skillet over medium- high heat, cook the bacon until it is crisp and has released most of its fat, 3 to 4 minutes. Add the onions, salt, and pepper and cook for 3 to 4 minutes. Add the garlic, thyme, and rice and cook, stirring, until the rice is opaque, 3 minutes. Pour in the wine and cook, stirring, until evaporated, about 2 minutes.
Add 1 cup of the hot stock to the skillet and cook, stirring frequently, until the rice has absorbed the
stock, about 3 minutes. Continue adding the stock in 1/2- cup increments, adding more stock only as each previous addition has been absorbed, until the rice is nearly al dente, about 18 minutes from the time you began adding the stock. You should have about 1 /2 cup of stock left.
Add the tomatoes and cook for 11/2 m inutes, or until the tomatoes have released some of their liquid and have softened a bit. Add the spinach, the remaining 1/2 cup stock, the butter, and half of the Parmesan and stir until thoroughly combined and the spinach has wilted. Taste and adjust the seasoning if necessary.
Serve the risotto hot, in shallow bowls, garnished with the remaining Parmesan.
Recipe courtesy Emeril Lagasse, from Sizzling Skillets and Other One Pot Wonders, HarperCollins Publisher, New York, 2011, copyright MSLO, Inc., all rights reserved
This recipe was styled by chef Karen Pickus for Good Morning America.
Recipe Summary
Main Ingredients: yellow onion, salt, bacon, chicken stock, butter
Course: Side Dish
More Info: Kid Friendly