Emeril's Blueberry Beignets
A Sweet, Fried Treat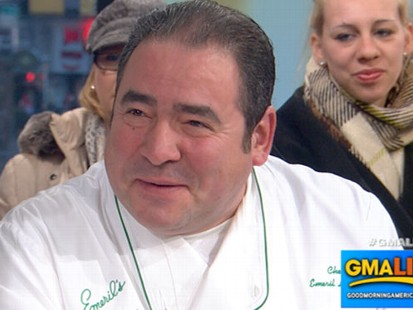 Emeril stops by 'GMA Live' to talk about the Mother's Day tradition.
From the kitchen of Emeril Lagasse
|
Try this tasty blueberry beignet recipe from Emeril.
Does your mom or a mother you know deserve breakfast in bed cooked by chef Emeril Lagasse this Mother's Day? Enter now!
Ingredients
Vegetable oil for frying
1 cup blueberries, stemmed and rinsed
1/4 cup sugar
2 eggs, lightly whisked
1 cup half and half
1 3/4 cups bleached all-purpose flour
1 teaspoon baking powder
1/2 teaspoon salt
1 1/2 cups confectioners' sugar, plus more for dusting as needed
Cooking Directions
Pour enough oil to come to the maximum line in an electric fryer or halfway up the sides of a large heavy bottom deep pot. Heat to 360 degrees F.
Add the blueberries to a bowl along with the sugar and lightly mash together using a fork. Stir in the eggs and the half and half.
In a large bowl, combine the flour with the baking powder and the salt. Make a well in the center, then whisk in the blueberry mixture until combined. Allow the mixture to rest 10 minutes before frying.
To cook the beignets, portion the batter using a 2 tablespoon scoop* and drop carefully into the hot oil, cooking 4 to 6 at a time. If using a deep fryer, shake the basket to loosen the beignets from the bottom. Cook the beignets for 6 minutes, turning as needed for even color.
Transfer the beignets to paper towels to drain briefly, then add to a large bowl along with the confectioners ' sugar, and toss to coat. Set the beignets on a serving platter and repeat with the remaining batter.
To serve, dust the beignets a final time with confectioners' sugar.
Makes about 18
*For smaller beignets you can portion the batter by heaping tablespoonfuls
Recipe courtesy Emeril Lagasse, copyright MSLO, Inc. all rights reserved
This recipe was styled by chef Karen Pickus for Good Morning America.
Other Recipes That You Might Like