Emeril's Braised Cabbage with Corned Beef Hash
Emeril Lagasse's St. Patrick's Day Recipe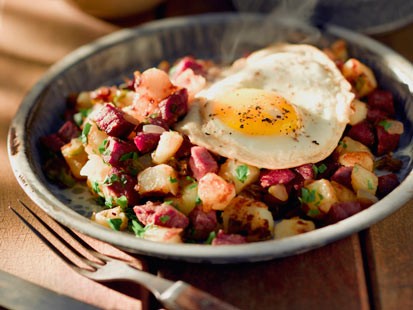 From the kitchen of Emeril Lagasse
This Braised Cabbage with Corned Beef Hash from Emeril Lagasse is perfect for a St. Patrick's Day feast.
Ingredients
2 tbsp. unsalted butter
3 1/2 yellow onions, thinly sliced
1 3/4 tsp. salt
1 3/4 tsp. freshly ground black pepper
1/2 head white cabbage (about 1 1/2 lbs.), cored and thinly sliced
1 tsp. sugar
3 tsp. Creole mustard (or whole-grain mustard)
2 tsp. garlic, chopped
1 cup water
1/2 cup heavy cream
1/4 cup olive oil
2 large baking potatoes (about 2 lbs.), peeled and grated (squeeze the grated potatoes with your hands to remove excess water)
1 lb. corned beef, thinly sliced and shredded
8 large eggs
1 tbsp. fresh parsley leaves, chopped
Cooking Directions
Melt the butter in a large, heavy saucepan or Dutch oven over medium heat. Add 2 cups of the onions, 3/4 tsp. of salt and 3/4 tsp. of the black pepper. Cook, stirring, until the onions are soft, about four minutes. Add the cabbage and sugar and stir until the cabbage is slightly wilted, about three minutes. Add the mustard and garlic and stir to mix. Add the water, stir, cover, and cook for 20 minutes stirring occasionally. Add the cream, stir to mix. and cook, covered, for ten minutes. Remove from the heat and keep warm.
In a large nonstick skillet over medium-high heat, heat the olive oil. Add the remaining 1 1/2 cups onions, the remaining 1-tsp. salt, and the remaining 1-tsp. black pepper. Cook, stirring, for two minutes. Add the potatoes and spread evenly over the onions. Cook, flipping the potatoes about every minute and gently mashing the, until golden brown, about eight minutes.
Add the corned beef and cook, stirring and pressing it into the hash browns, for two minutes. One by One, crack the eggs over the mixture, placing them about 1/4 inch apart, reduce the heat to low, cover, and cook until the eggs are set, seven to eight minutes.
To serve, spread about 1/2 cup of the cabbage in the center of each serving plate and top with a wedge of corned beef hash with an egg. Sprinkle with the parsley and serve.
Recipe copyright 1999 by Emeril Lagasse
Recipe Summary
Main Ingredients: corned beef, potatoes, creole mustard, white cabbage
Course: Casserole, Breakfast, Dinner, Lunch, Main Course