Emeril's Chicken Chili with Cornbread Topping
Try This Amazing Chili Recipe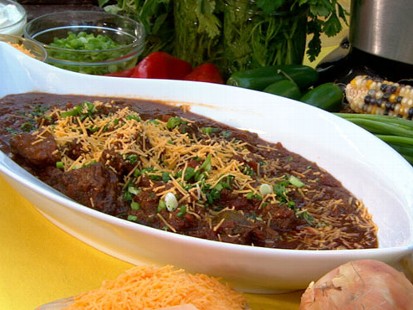 Famous chef prepares recipes from his new cookbook, "Sizzling Skillets."
From the kitchen of Emeril Lagasse
|
With the perfect topping, you won't be able to resist going back for seconds.
Ingredients
For the chili:
3 tablespoons vegetable oil
4 pounds skinless, boneless chicken thighs, cubed
2 tablespoons Emeril's Southwest Essence
4 teaspoons chili powder
2 teaspoons ground cumin
2 1/2 cups chopped yellow onions
1 1/2 cups chopped red bell peppers
1/4 cup minced jalapenos
2 tablespoons minced garlic
2 bay leaves
1 1/4 teaspoons salt
1/2 teaspoon cayenne pepper
2 cups fresh corn kernels (from about 3 ears)
Two 28-ounce cans chopped tomatoes with their juice
2 cups Chicken Stock
1/2 cup chopped fresh cilantro
Cornbread Topping, recipe follows, optional
1 cup grated Cheddar cheese
1/2 cup chopped green onions, for garnish
2 cups sour cream, for serving
For the cornbread:
3/4 cup cornmeal
1/4 cup all-purpose flour
1 1/2 teaspoons baking powder
1/2 teaspoon salt
1/2 cup buttermilk
1 large egg
2 tablespoons bacon grease, melted, or vegetable oil
Cooking Directions
Preheat the oven to 400 degrees F. (This step is necessary only if you plan to top the chili with the cornbread topping, which is optional.)
Heat 2 tablespoons oil in a medium Dutch oven (preferably cast-iron) over high heat. Add the chicken, Southwest Essence, chili powder, and cumin and cook, stirring, until browned on all sides, about 5 minutes. Transfer to a bowl and set aside.
Add the remaining tablespoon oil to the Dutch oven along with the onions, bell peppers, and jalapenos and cook, stirring, for 3 minutes. Add the garlic, bay leaves, salt, and cayenne and cook, stirring, for 30 seconds. Add the corn and cook until starting to color and pop, about 3 minutes. Add the reserved chicken, tomatoes and their juice, and the Chicken Stock and bring to a boil. Reduce the heat to a simmer and cook, stirring occasionally, until the mixture has thickened and is chili consistency, 30 to 40 minutes.
When the chili has thickened, remove from the heat and discard the bay leaves. Stir in the cilantro and adjust the seasoning to taste. Chili is now ready to serve; if desired, spoon the Cornbread Topping over the chicken mixture, leaving a 1/2-inch border around the sides.
Bake until the topping is golden brown, 15 to 20 minutes. Remove the chili from the oven and sprinkle the cheese on top. Return to the oven until melted, 2 minutes. Remove from the oven and garnish with the chopped green onions. Serve hot with the sour cream alongside.
For the cornbread:
Combine the cornmeal, flour, baking powder, and salt in a mixing bowl.
Beat together the buttermilk, egg, and bacon grease in a small mixing bowl. Add to the dry ingredients and mix until just blended, being careful not to overmix.
This recipe was styled by chef Karen Pickus for Good Morning America.
Recipe courtesy Emeril Lagasse, from Emeril's Potluck, HarperCollins Publishers, 2004, copyright MSLO, Inc., all rights reserved
Other Recipes That You Might Like