Emeril's Croque Madame on Croissant
A Sophisticated Breakfast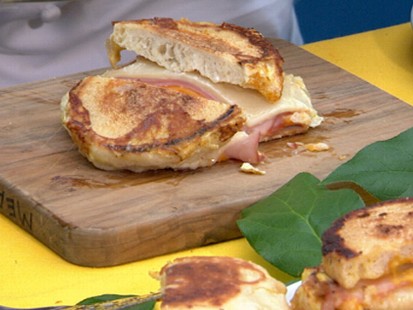 Chef also prepares his "Croque Madame on Croissant" for another great breakfast.
From the kitchen of Emeril Lagasse
This sandwich is the perfect candidate for breakfast champion. A buttery crisp croissant loaded with black forest ham and cheese, topped with a parmesan béchamel and a fried egg. Whoa! This will get your day started right.
Ingredients
2 tablespoons unsalted butter
2 tablespoons all-purpose flour
1 cup whole milk
½ teaspoon salt
1/8 teaspoon nutmeg
1/8 teaspoon cayenne pepper
3 tablespoons finely grated Parmigiano-Reggiano
4 croissants
8 ounces thinly sliced black forest ham
1 cup grated Gruyere cheese
1 teaspoon chopped fresh thyme leaves
1 teaspoon chopped fresh chive leaves
4 fried eggs
Cooking Directions
Melt the butter in a small saucepan over medium heat. When melted, add the flour and stir for 1 ½ to 2 minutes. Gradually whisk in the milk, increase the heat to medium high and bring to a simmer. Add salt, nutmeg, cayenne and Parmesan and whisk to combine. Cook for 3 minutes, whisking constantly until the sauce thickens. Remove the béchamel sauce from the heat and set aside until ready to use.
Position an oven rack in the upper third of the oven and preheat the broiler.
Slice the croissants in half and place the bottom half of the croissant on a baking sheet. Place 2 slices of ham on the croissant, place ¼ cup of the Gruyere on top of the ham. Broil the sandwiches for 1 to 2 minutes, or just until the cheese has melted. Top with remaining half of the croissant, ladle 2 tablespoons of the béchamel on top of each sandwich, sprinkle each sandwich with ¼ teaspoon thyme and ¼ teaspoon chives, and place a fried egg on top of the béchamel. Equally divide the remaining cheese between the four sandwiches. Broil the sandwiches for 2 to 3 minutes or until the cheese has melted and turned a light golden brown.
Recipe courtesy Emeril Lagasse, copyright MSLO, Inc., all rights reserved.
This recipe was styled by chef Karen Pickus for Good Morning America.
Recipe Summary
Main Ingredients: butter, flour, thyme
Course: Breakfast