Emeril's English Muffin Monte Cristo
Gourmet Brunch On-the-Go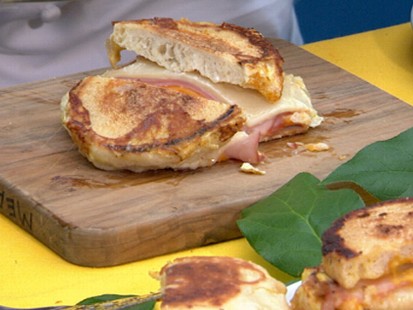 Chef also prepares his "Croque Madame on Croissant" for another great breakfast.
From the kitchen of Emeril
|
Make this monte cristo sandwich for breakfast or lunch. It's a great for on-the-go meal!
Ingredients
4 English muffins
>
> ¼ cup butter, softened
>
> Whole grain or Dijon style mustard, as needed
>
> Homemade or store bought mayonnaise, as needed
>
> ¾ pound Swiss cheese slices
>
> ½ pound Black Forest ham slices
>
> ¼ pound cheddar cheese slices
>
> ¼ pound smoked turkey slices
>
> 3 eggs, beaten
>
> 1/2 cup half and half
>
> Salt and pepper to taste
>
Cooking Directions
Preheat the griddle. Brush one side of each half of the English muffin with butter. Flip the English muffins over and spread the mustard on 4 slices of English muffin and spread mayonnaise on the remaining slices. On four slices of the muffin, mustard side up, lay a piece of Swiss cheese. Place one slice of ham on top of the cheese. Lay a slice of the cheddar cheese over the ham.
Place one slice of the smoked turkey on top of the cheese. Lay a piece of Swiss cheese over the turkey. Top each pile with the remaining muffin, mayonnaise side down. In a mixing bowl, whisk the eggs and cream together.
Season with salt and pepper. Dip sandwiches in the egg mixture and place on a hot griddle and cook for 2 to 3 minutes on each side, or until golden brown and the cheese has melted.
Cut the sandwiches in half and serve.
Recipe courtesy Emeril Lagasse, copyright MSLO, Inc., all rights reserved
This recipe was styled by chef Karen Pickus for Good Morning America.
Other Recipes That You Might Like