Emeril's French Bread Pizza Sandwiches with Hot Italian Sausage
Try These Big Sandwiches With Bold Flavor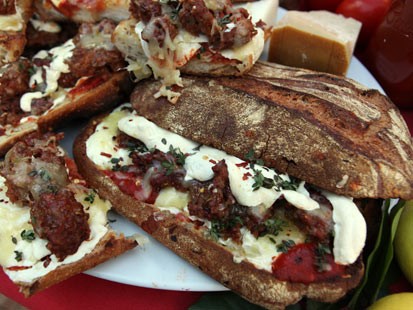 From the kitchen of Emeril Lagasse
Try Emeril's French bread pizza sandwiches with hot Italian sausage. These sandwiches are bound to be the hit of any tailgate party.
Ingredients
8 tablespoons (1 stick) unsalted butter
2 teaspoons minced garlic
¼ teaspoon salt
1 teaspoon freshly squeezed lemon juice
1 tablespoon minced fresh parsley leaves
1 loaf French or Italian bread, about 22 inches long
1 tablespoon olive oil
1 1/2 pounds hot Italian sausage, casings removed and meat crumbled
2 cups Quick Tomato Sauce (recipe follows) or other marinara sauce
8 ounces mozzarella cheese, grated
8 ounces Fontina cheese, grated
2 tablespoons chopped fresh thyme leaves
½ teaspoon crushed red pepper
¼ cup finely grated Parmigiano-Reggiano cheese
Extra-virgin olive oil, for drizzling (optional)
For the tomato sauce:
1 tablespoon olive oil
1 onion, chopped
3 cloves garlic, chopped
One 28-ounce can whole peeled tomatoes, drained and pureed
1 sprig fresh thyme
1/2 teaspoon salt
1/2 teaspoon freshly ground black pepper
1 tablespoon extra-virgin olive oil
Cooking Directions
Preheat the oven to 350°F. Line a baking sheet with aluminum foil or parchment paper for easier cleanup.
Melt the butter in a small pan, and combine it with the garlic, salt, lemon juice, and parsley.
Halve the bread lengthwise and cut each half in half crosswise. Using your fingers, gently scoop out and discard some of the soft inner part of the thickest portion of the bread, leaving a 1-inch-thick shell. Brush the inside of the bread with the garlic butter. Place the sections, cut side up, on the prepared baking sheet, and bake in the oven until golden, aromatic, and lightly toasted, about 6 minutes. Remove the bread from the oven (leave it on the baking sheet) and raise the oven temperature to 400°F.
Heat the olive oil in a medium skillet over medium heat. Add the sausage and cook, stirring as needed, until it is browned and the fat is rendered, about 8 minutes. Using a slotted spoon, transfer the sausage to a paper-towel-lined plate, and set aside.
Spoon the tomato sauce evenly over the pieces of bread. Divide the mozzarella and Fontina evenly over the sauce. Top with the sausage, and then garnish with the thyme, crushed red pepper, and Parmesan. Bake for 8 minutes, or until hot and bubbly. Serve immediately, drizzled with extra-virgin olive oil if desired.
For the tomato sauce:
Heat the olive oil in a small saucepan over medium heat. Add the onion and garlic, and cook for 3 minutes, until soft. Add the tomatoes, thyme sprig, salt, and pepper, and simmer for 20 minutes. Remove from the heat. Stir in the extra-virgin olive oil, discard the thyme sprig, and set aside until ready to use.
Recipe courtesy Emeril Lagasse, from Emeril's Kicked-Up Sandwiches: Stacked with Flavor, HarperCollins Publisher, New York, 2012, copyright MSLO, Inc., all rights reserved
This recipe was styled by chef Karen Pickus for Good Morning America.
Recipe Summary
Main Ingredients: butter, garlic, tomato, meat
Course: Party Platter