Emeril's Fruity Breakfast Smoothie
Breakfast On-the-Go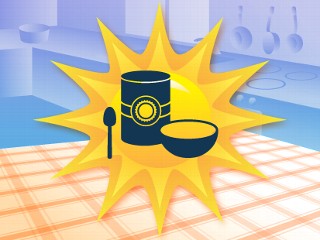 From the kitchen of Emeril Lagasse
|
This smoothie is a quick and easy breakfast. Use your favorite fresh fruit for a light and sweet start to your morning.
Ingredients
2 cups washed strawberries, stem and hull removed
1 large ripe banana, peeled and sliced
1cup frozen peaches, mango, or raspberries
1 cup plain yogurt
1 cup freshly squeezed orange juice
1/4 cup honey or agave nectar, or to taste
1/4 cup crushed ice
Cooking Directions
Place all of the ingredients in the blender and process on high speed until smooth, about 30 to 45 seconds. Add additional orange juice if necessary to achieve the desired consistency.
Pour into glasses and serve.
Recipe courtesy Emeril Lagasse, copyright MSLO, Inc., all rights reserved
Other Recipes That You Might Like